Vicar's Letter
December 2018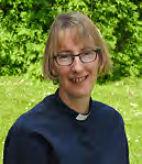 Giving and receiving gifts is at the heart of our Christmas celebrations. Some suggest that this tradition reflects the gifts the Wise Men brought to the infant Jesus. The Christmas story talks of gold, frankincense and myrrh, gifts of great value- and also rather strange presents to bring to a child! There are so many considerations when purchasing a gift. It can be quite a challenge deciding what to give to our families, friends and work colleagues. Consideration may be given to the price and whether the recipient will like the present, but there are also deeper questions of environmental and ethical impact to ponder.
Stacey Dooley is currently famous for appearing on Strictly Come Dancing. Her 'day job' is as a documentary maker tackling difficult and sometimes dangerous subjects. Recently the BBC aired her documentary 'Fashion's dirty secrets' which examined the environmental impact of cotton production, focusing on the area around the Aral Sea. The Aral Sea lies between Kazakhstan and Uzbekistan.
Uzbekistan is the world's fifth biggest cotton exporter, and the process of irrigating the cotton and dying the cloth has had a huge impact on the local climate. The region has seen changing temperatures and rainfall as the Aral Sea has shrunk to one tenth of its original size and turned into a desert. As Stacey Dooley is driven across the sea bed now reduced entirely to dust, she comments: 'There used to be fish; now there's a camel.'
Besides thinking of environmental impact, there are also ethical issues to consider. Workers often receive low pay for their work, with the profits going elsewhere. One way of ensuring that workers are given a fair wage is to buy products which have the Fairtrade logo. According to the Fairtrade foundation, 'Fairtrade is about better prices, decent working conditions, local sustainability and fair terms of trade for farmers and workers in the developing world. It enables them to improve their position and have more control over their lives.' Fairtrade doesn't only ensure a fair wage to workers; it also gives them a Fairtrade premium to invest in their local communities. This can be spent on areas such as housing, schools or training.
The Wise Men may not have faced these environmental and ethical considerations, but they were presented with a challenge. What do you give to a baby born to be king? In his gospel, Matthew tells us that they sought the baby Jesus in Herod's palace, assuming that was where a new king would be born.
Herod told them to search diligently for the new king and then return to tell him so that he could pay homage. His plan was to kill his rival. The Wise Men eventually found the infant Jesus and presented him with their prophetic gifts. Gold represented royalty and was a sign that Jesus was destined to become king.
In Old Testament times it was also a sign of holiness. Worth its weight in gold, frankincense was burnt and used in religious rituals, representing the prayers of the people. It showed that Jesus was someone worthy to be worshipped. Myrrh is a resin from a bushy tree found in the Arabian Peninsula. It is used in medicine to reduce swelling and also for anointing the dead. Another rare and costly gift, myrrh looked forward to Jesus' destiny as the one who would die on the cross to bring salvation.
Wishing you a blessed Christmas,
Joy (Vicar of Eaton Bray with Edlesborough)
---
Letter Archives
2018
Other Years
About the Vicar's Letter
The Vicar's Letter has been appearing in the villages Focus magazine since August 2002.
The Rev. Peter Graham also used to publish The Vicar's Letter in the parish magazine of 1964. Please see the Vicar's Letter area for these.