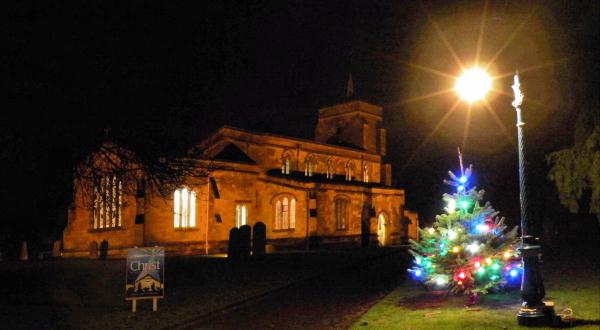 WELCOME to our parish website. Whether you are looking for specific information about our church and parish or are simply browsing, we hope you will find something of interest about our historic parish church, about our worship and activities, and about the parish of Eaton Bray with Edlesborough in the Diocese of St Albans of the Church of England.
On this site you can tour our beautiful church and learn something of its history, you can catch up with news and future events, and you can find out more about our worship, ministry and outreach.
We hope you enjoy doing that, and after the "virtual" experience may we invite you to come and share the real thing, by joining us one Sunday at worship or by becoming involved in the life of our parish.
Morning Worship, 3 December
Morning Worship for Sunday 3 December from St Mary's Eaton Bray. The service can be followed using the Service Booklet and Pew Leaflet for Sunday 3 December.
Please subscribe to the St Mary's Eaton Bray YouTube channel to be notified as soon as our videos are available. This channel also contains all of our previous online services for you to enjoy.
---
Donate to St Mary's
---
Features
---
---
---
---
---
---
---
---
---
Latest News
This year's annual Charity Christmas Puzzle has now been posted, and is available to download. This, the 33rd annual Puzzle that Gordon Gray has set,... Read more >>
St Mary's Eaton Bray Come and join in the fun and learn something new about where you live. This year, St. Mary's Church, Eaton Bray is holding ... Read more >>
I'm sorry to inform you that this summer's Open Gardens event has sadly been cancelled due to there being too few offers of gardens to visit. One ex... Read more >>
Thy Kingdom ComeA global prayer movement 18th - 28th May 2023 Here, at St Mary's Church there will be Morning prayer and praise, Praise services, Pr... Read more >>
Other News
For other news articles, please see the St Mary's News section.
---
Raising Funds for St Mary's Church
Do you, your family or friends buy goods or services on the internet?
Click through to the St Mary's Eaton Bray EasyFundraising page to find out how you can buy from your usual supplier at no cost to yourself and raise money for St Mary's.
eBay, John Lewis, Argos and Amazon are just a few of the many suppliers who support the scheme to raise money for charity.
In addition to this, try using easysearch.org.uk instead of your usual search engine, each successful search will raise further funds from the advertisers who support this site.
---