Vicar's Letter
October 2018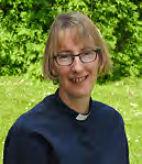 As I write this we have just enjoyed a weekend of music. On Saturday the new series of 'Strictly' saw the celebrities being matched up with their partners and taking to the dance floor for the first time. It was also the Last night of the Proms in the Royal Albert Hall with the wonderful 19 year old saxophonist Jess Gillam making her last night debut. On Sunday I led a Songs of Praise service in St Mary's Church Edlesborough (the church on the hill) which was a great opportunity to worship in that ancient building and to sing some much loved hymns together.
Music is such an important part of life. Singing is something we can do anywhere whether it is singing in the shower or joining with others in a group. It is more than just a bit of fun and has been shown to have many benefits. Singing has been scientifically proven to improve oxygen levels in the blood and to increase the flow of serotonin, the so-called 'feel good' hormone. Signing with a choir has the added benefit of interactivity. There is the social side, the chance to make new friends and to learn a new skill.
And there is the sense of achievement when all that practice comes together and produces a performance to be proud of.
At St Mary's we are hoping that you will join us for 'Sing, Sing, Sing' during October half term. It is open to children from year 2 and above and parents and carers are invited to stay if they want to join in. The group will meet in St Mary's Church on High Street from 2pm until 4pm on Wednesday 24th, Thursday 25th and Friday 26th October. If you are not able to come to all three sessions, don't worry - you will still be welcome to come along. It is all free and there will be tuition for those who are new to singing.
Refreshments (juice and biscuits) will be provided.
There will be the opportunity to sing at the 10am service on Sunday 28th October. Again, if you are not able to make that date, you will still be welcome to join in during the week. There will also be the chance to sing during the Christmas period. If you need more information or would like to tell us you are coming, please contact Gordon Gray
I have sung in choirs at school, at church and at work and I love that sense of creating something together which transcends the sum of its parts. There is also the challenge of learning new music as well as the joy of revisiting familiar favourites. Conductor Sir Andrew Davis praised the power of music in his speech at the Last Night of the Proms. 'It makes us smile, it makes us weep, it brings us closer to each other. We live in a world that all too often seems dominated by division. In times like these, music inspires, consoles, heals and gives hope. It has the power to unite us in beauty and in spiritual strength.'
With every blessing for a music filled autumn,
Joy (Vicar of Eaton Bray with Edlesborough)
---
Letter Archives
2018
Other Years
About the Vicar's Letter
The Vicar's Letter has been appearing in the villages Focus magazine since August 2002.
The Rev. Peter Graham also used to publish The Vicar's Letter in the parish magazine of 1964. Please see the Vicar's Letter area for these.