Current News
During the 11 days of Thy Kingdom Come it is hoped that everyone who takes part will:
Deepen their own relationship with Jesus Christ
Pray for 5 friends or family to come to faith in Jesus
Pray for the empowerment of the Holy Spirit, that we would be effective in our witness
The invitation in 2016 from the Archbishops of Canterbury and York to the church of England has grown into an international and ecumenical call to prayer.
Thy Kingdom Come Resources
For more resources, please see the Thy Kingdom Come website which also includes daily videos to "to inspire, equip and appeal to a wide range of church tradition and denomination".
Thy Kingdom Come continues to grow in its outreach to different churches and denominations the Methodist and catholic churches in this country and others throughout the world.
St. Marys will be hosting Thy Kingdom Come Ascension Day service at 7.30 pm on Thursday 13th May which we invite you to attend.
There will be prayer sessions every morning at 10 am starting from the 14th May in St. Marys Church until 23rd May 2021.
There will be a regular church service on Wednesday 19th May at 10 am in St. Mary's Church.
There will be zoom services in the evenings on these dates at 6pm:
Friday 14th May
Saturday 15th May
Monday 17th May
Tuesday 18th May
Thursday 20th May
Saturday 22nd May
Please contact the churchwarden for the link to zoom meetings if you would like to join them.
---
There is a virtual prayer walk which we hope you can do from home or walking it during this time which you can access on this web page. Please ask for a paper copy if you would like one.
---
Her is one of the video resources from the Thy Kingdom Come website - Day 3: Watch Methodist Youth President, Phoebe Parkin, share on the theme of 'Thanks.'
---
We will be holding our Annual Parochial Church Meeting as part of the morning service on 9th May 2021. If you think it doesn't seem long since our last APCM you would be right! All APCMs were delayed in 2020 due to the pandemic and we held ours in October. In normal years they need to be held before the end of May which is why we have another one coming up shortly. During the meeting we will be electing Church Wardens and also members to the Parochial Church Council (PCC) which is the equivalent of the church governing body. If you are interested in standing for election, please get in touch to find out more. We will also receive reports of the activities of the parish and the financial statements. I hope you will be able to come along to the APCM which is open to anyone on the church electoral roll.
Also to let you know that the midweek communion services will be starting again on Wednesday 5th May 2021 at 10am.
With every blessing,
Joy
---
On Thursday 22nd April 2021 we were delighted to welcome Stephen Burge as our new Associate Priest. Stephen who has now completed his curacy with us, was licensed by the Archdeacon of Bedford, Ven. Dave Middlebrook.
40 people were present in church and others joined the service through our live streamed link [which is still available for you to rewatch on YouTube]. We are very happy that Stephen has chosen to continue his ministry with us.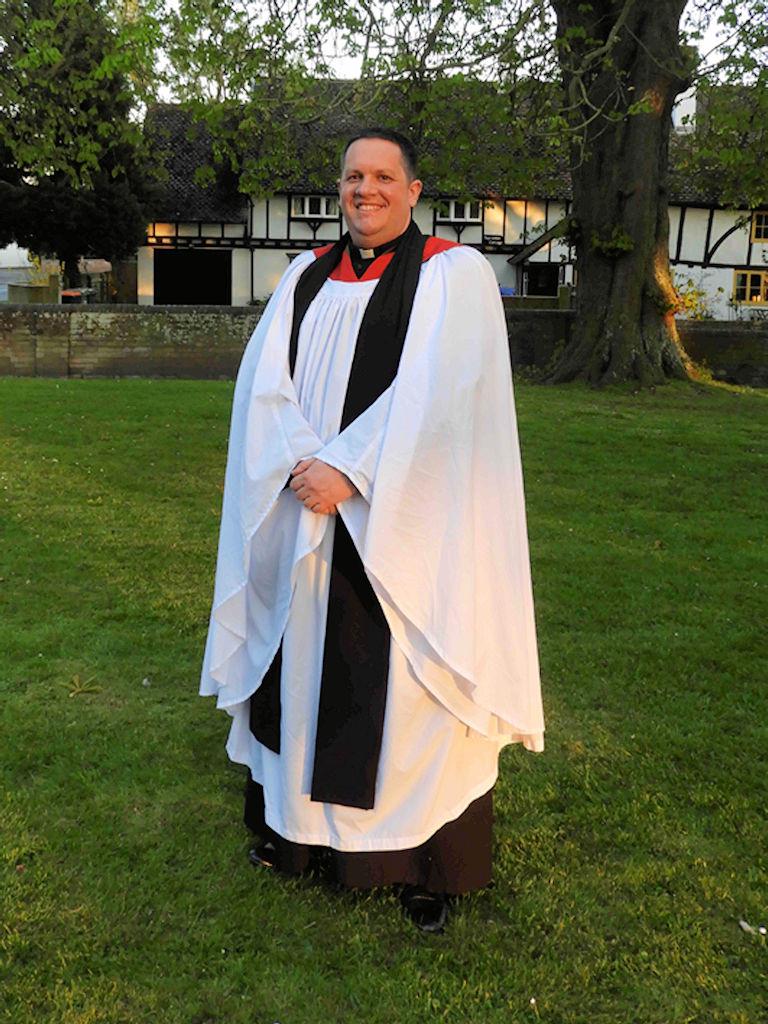 ---
I was very sad to hear of the death of His Royal Highness the Duke of Edinburgh. He lived a life of public service and support for Her Majesty The Queen and his Christian faith underpinned all that he did.
Bishop Alan has released the following press statement.
It is with great sadness that I received the news this morning that His Royal Highness The Duke of Edinburgh has died. Please join me in prayer for His Royal Highness and for Her Majesty The Queen and other members of the Royal Family in their grief, and in thanksgiving for His Royal Highness's long and fruitful life of service.
His Royal Highness led life as a Naval Officer, as Consort to Her Majesty The Queen and as a father, grandfather and great-grandfather.
In service of the monarchy, he accompanied and supported Her Majesty The Queen both in this country and around the world, including many visits to the Diocese of St Albans. We are grateful to have welcomed him here.
Throughout his life, His Royal Highness was deeply involved with a large number of charities and is particularly well known for The Duke of Edinburgh's Award, which has influenced the lives of many young people. He was also an accomplished amateur artist, polo player, yachtsman and, later in life, he excelled at carriage driving.
He was a unique individual in our national life and a memorable character.
His Christian faith sustained him throughout his life, and we pray for him in the sure and certain hope of the resurrection to eternal life through our Lord Jesus Christ.
May he rest in peace.
+Alan St Albans
---
Unfortunately, under the present law on Covid-19, physical condolence books in church are not permitted. If you would like to express your condolences, there is an online condolence book from the Church of England available here. In addition, there are prayers on the website for use at home.
The Royal Family has requested that donations to charity be given in lieu of flowers. But if you wish to leave flowers, please put them in the churchyard alongside the path from the Church Lane gate.
I am sure you will join me in praying for Her Majesty the Queen and the Royal Family at this time of grief and loss.
God of our lives, we give thanks for the life of Prince Philip,
for the love he shared among us, and for his devotion to duty.
We entrust him now to your love and mercy, through our Redeemer Jesus Christ. Amen.
Merciful God, be close to all who mourn,
especially The Queen and all members of the Royal Family.
May they know the hope of your promises and the comfort of your love,
through Jesus Christ our Lord. Amen.
With every blessing,
Joy
---
As we gradually move out of lockdown, it is good to be able to look forward to doing more things together. It was wonderful to be able to share the Easter Sunday service in church and to sing in the churchyard to complete our Easter worship. From now on, Services will be in St Mary's each Sunday at 10am and will continue to be livestreamed for those who are unable to meet for in person worship. We will also be having services at Dagnall on the third Sunday of the month at 10.30am.
There is more information on the pew leaflet about Stephen's licensing service on Thursday 22nd April at 7pm.
Looking forward to May, the Fund Raising team are planning some Treasure Hunts which will be promoted throughout May. Walks will take place in Eaton Bray, Edlesborough and Northall with clues to find; you can sign up for one treasure hunt or for all three. More details will follow in the Pew Leaflet and in Focus. Other events in the pipeline include Open Gardens and [email protected] Mary's concerts.
As we are now returning to the weekly Eucharist service in church and the pew leaflet, this will be the last weekly message I send out. It has been good to keep in touch during the past year with all its challenges and changes. I hope soon to be able to meet up in person.
Wishing you all God's blessing for this Easter season,
Joy
---
We are looking forward to being back in church soon for our Holy Week and Easter services. We will maintain covid compliant safety measures including distanced seating, hand sanitisers and everyone will be asked to wear a face covering.
The full list of services is here. As usual, we will be joining with our friends in the North Chilterns Group to offer worship on Monday, Tuesday and Wednesday of Holy Week, but please note the service at St Mary's will be on Monday this year. Also that the Good Friday service is at Dagnall.
Monday in Holy Week 29 March: 7.30pm service at St Mary's Eaton Bray
Tuesday in Holy Week 30 March: 7.30pm service at St Mary's Kensworth
Wednesday in Holy Week 31 March: 7.30pm service in St Giles Totternhoe
Maundy Thursday 1 April: 8pm Eucharist followed by the Watch
Good Friday 2 April: 2pm -3pm "An Hour at the Cross" All Saints' Dagnall
Easter Day 4 April: 10am - Parish Eucharist
When we return to services in church they will be Eucharistic. The words for the service will not be on the livestream so if you want a copy of the service book to use at home there are two ways of requesting that. Either you can have a hard copy delivered to your home or you can have an email sent with a copy for you to print out yourself. Please contact Catherine Hayden to request a copy of the service and let her know which type you require.
If you wish to donate to the Easter lilies in memory of a loved one the link is here. https://givealittle.co/campaigns/376f5025-87d8-4fff-9bd0-24cfda27717e
This week is the fifth Sunday in Lent. You can view the livestream via the church website, YouTube channel or Facebook page.
With every blessing,
Joy
---
---
Archived News
Please see the St Mary's Eaton Bray News Archive for links to archived news about St Mary's.