Current News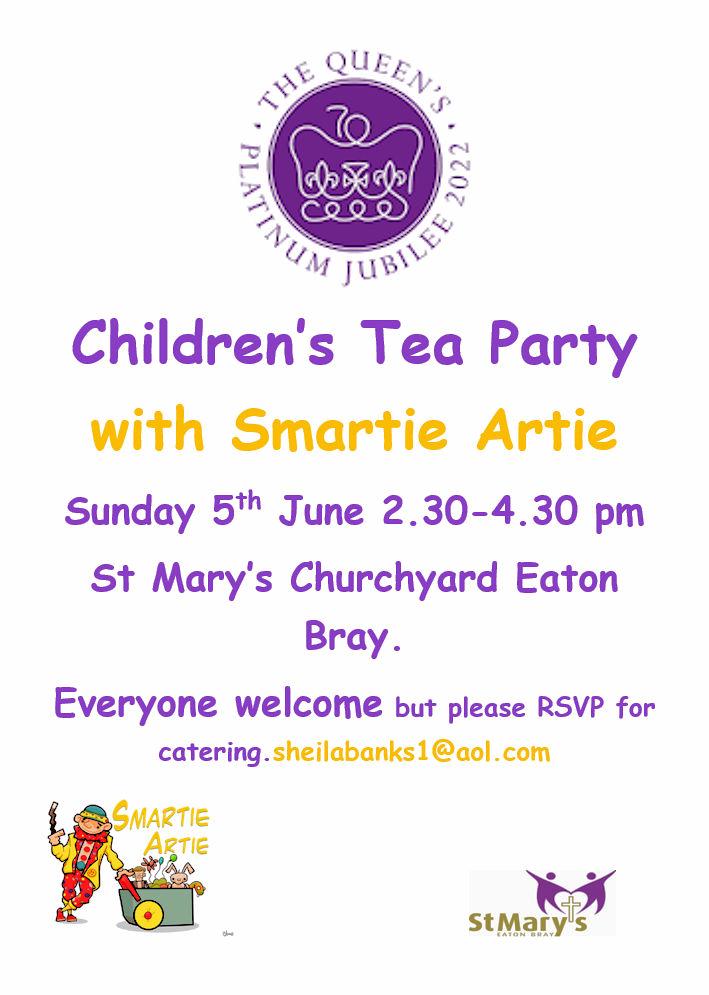 Children's Tea Party with Smartie Artie
Sunday 5th June 2.30-4.30 pm
St Mary's Churchyard Eaton Bray.
Everyone welcome but please RSVP for catering.
---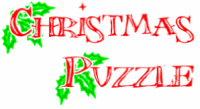 This year's annual Charity Christmas Puzzle has now been posted, and is available to download.
This, the 31st annual Puzzle that Gordon Gray has set, has a theme designed to help completion and will appeal to people who enjoy doing crossword puzzles, such as in the Daily Telegraph (though it is not a crossword puzzle). Puzzlers have plenty of time to find the answers and Puzzles should be returned, with donation, by 30 January 2022.
To download a copy of the Puzzle go to www.christmaspuzzle.uk. Alternatively puzzles can be collected from St Mary's Eaton Bray.
All the money you donate, except for the prize-money, will go to charity.
---
You may have noticed as you walk around the villages some new pictures appearing in windows on the theme of the Christmas story. Some of us from the village churches have designed a trail to follow by spotting numbered pictures in the windows of houses, shops and churches in Edlesborough and Eaton Bray. Each day throughout December a new picture will appear in a different window. The trail will start at Edlesborough Methodist church on December 1st. The pictures will stay on display until Monday January 3rd 2022 so you can also view them during the school Christmas holidays. (For those who like to look things up you can find the story in the Bible - in Matthew chapters 1 and 2 and Luke chapter 2)
Below is a map showing where to look for a picture on the relevant date. Locations are approximate to increase the challenge ! You can also find the trail on the Salvation Army's facebook page, St Mary's facebook page and the website of Eaton Bray Methodist Church.
Enjoy being out and about this December and follow the Advent trail...
---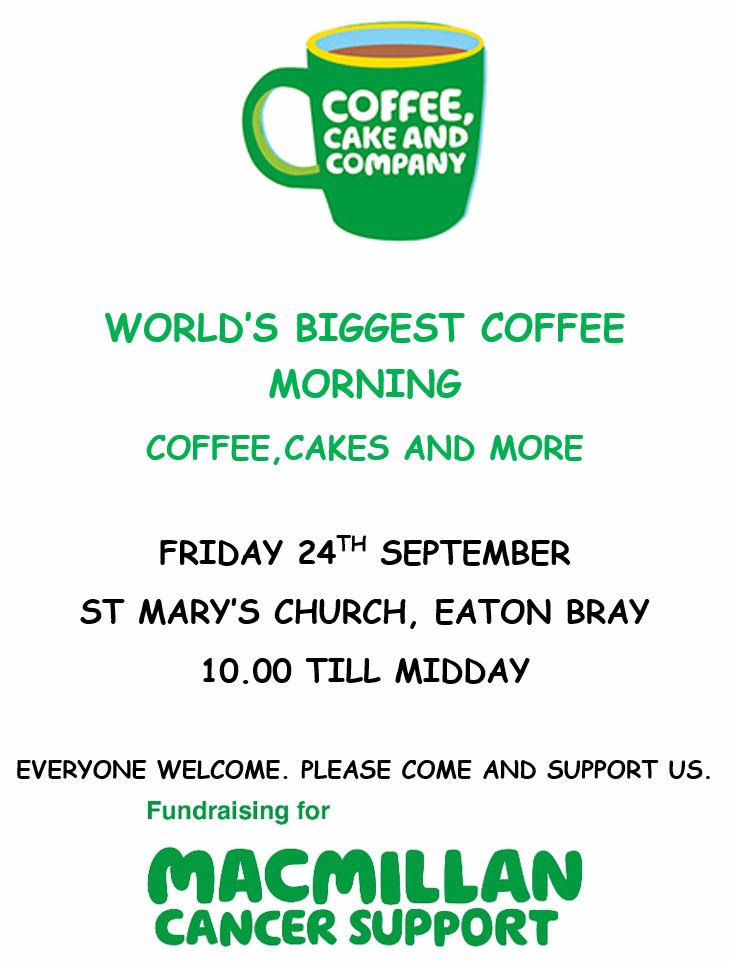 World's Biggest Coffee Morning
Coffee,cakes and more
Friday 24th September 2021
St Mary's Church, Eaton Bray
10.00 till midday
Everyone welcome. Please come and support us.
---
St Mary's Eaton Bray
Come and join in the fun and learn something new about where you live.
This year, St. Mary's Church, Eaton Bray is holding a free 'Heritage Open Days' event.
Saturday, September 11th 2021, 2-5pm
'Edible England' is this year's theme. Discover all about the Aylesbury Prune, or prune plums as they were otherwise known. There will be quizzes, a churchyard trail, activities for children plus more.
Were you or your ancestors baptised or married in St. Mary's, Eaton Bray? The church records will be available for you to look up special events from the past.
Refreshments will be available to round off an entertaining afternoon.
Why not combine a visit to St. Mary's Church, Eaton Bray with a visit to St Mary's, Edlesborough for more foodie fun.
We look forward to seeing you
Heritgage Open Day
at St Mary's Church,
11 September 2021 2pm-5pm
Activities include:
Local History
Church Records
Churchyard trail
Pictorial Quiz
Refreshments will be available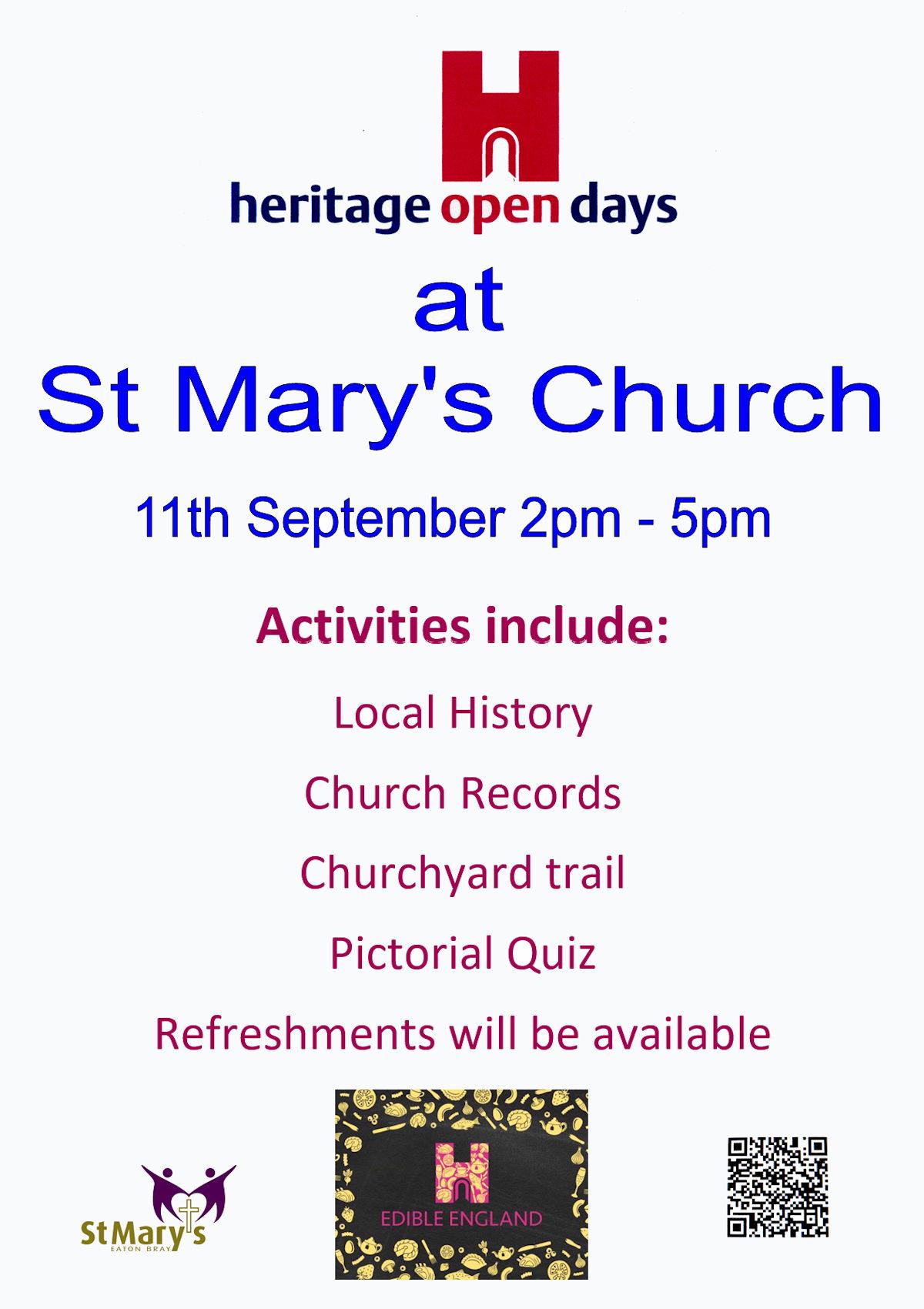 ---
HODS offer free entry to a wide range of attractions around the UK, giving you an opportunity to discover local treasures and national gems that might not normally be open to the public to explore. W: heritageopendays.org.uk
For the first time ever, both of our St. Mary's will be part of this dynamic programme of over 5,000 events. HODS is England's largest annual festival of history and culture, and runs for ten consecutive days from the 10th to the 19th of September. Both of our Churches will be manned on Saturday 11th September. Please see the above poster and information about events at Eaton Bray.
---
St Mary's Edlesborough
The Friends of the Church on the Hill, Edlesborough will be setting up on Friday September 10th. We will be manned on the Saturday and Sunday 10 - 4pm, hoping that on the Sunday afternoon we can have our Bell Ringing team, followed by a "Songs of Praise".
Each year HODS has a national theme and this year it is "Edible England". At the time of writing, one of our local beekeepers will be on hand with advice on the conditions and equipment required for healthy productive bees within the ecosystem. We are talking to a local business, who may be able to add to the Edible England' theme. There may be examples of local foraging opportunities and there will be pictures and stories of our village history, and the families that lived here.
As well as enjoying all that the Church building has to offer it is also an opportunity to explore the Churchyard; it is much bigger than you might think. We have retained our wildflower banks and they should be a picture at the time, hopefully alive with bees and other insects.
We will add our event to our website: edlesboroughchurch.org.uk
If you are a Facebook user please search for us: Friends of the Church on the Hill, Edlesborough and like our page. See you in September.
Friends of the Church on the Hill
---
This year's Carnival is only a few weeks away.
Visit the Carnival website and Carnival Facebook page to see what will be happening and how you can get involved.
---
---
Archived News
Please see the St Mary's Eaton Bray News Archive for links to archived news about St Mary's.