Vicar's Letter
August/September 2002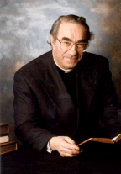 The Grant family is settling in at the Vicarage, and we should like to thank everyone who helped to make us feel so welcome. It is a big change from the Scottish Highlands, and from more than 20 years running a Cathedral, but everyone is doing so much to make the change easier for us all.
There was a splendid turn-out for the Institution Service on 3 July, when the Bishop made me Vicar of this Parish, and it was a delight to meet some old friends as well as so many new ones: people emerged from my past in Glasgow and Grantham as well as one or two coming all the way from Inverness. Many people have said "now we have our own Vicar again, everything's back to normal", and I hope that is indeed the case.
St Mary's has remained in good heart right through a long vacancy, and that shows what a resilient and resourceful Church Family we have. Our present strength is a tribute to the hard and caring work of lots of people. The Churchwardens have carried much of the burden, but they have been helped in many ways, big and small, by other people, and by those clergy who have maintained our services week by week. The Bishop of Bedford, the Rt Revd John Richardson, has been a great support to the Parish, and we wish him well as he begins his retirement - it's hard to think that he has reached that age!
The Carnival was a wonderful introduction to the wider life of our villages, and I am delighted to be working in such a vibrant and active community. What a wonderful day everyone had!
In the coming months we shall be looking at our worship to help us with the change-over to the Church of England's new Prayer Book, "Common Worship". At the same time, with the support of the P.C.C. I shall be reintroducing the practice of saying Morning and Evening Prayer each day in church, so the whole community can be sure that it will be supported in prayer every day of the week, not just on Sundays. We shall also be canvassing the regular congregation about possible times for additional celebrations of the Eucharist during the week. Of course, whenever services are held in St Mary's, anyone in our parish community is welcome to join us.
I look forward to meeting many of you in the coming weeks. MALCOLM
---
Letter Archives
2002
Other Years
About the Vicar's Letter
The Vicar's Letter has been appearing in the villages Focus magazine since August 2002.
The Rev. Peter Graham also used to publish The Vicar's Letter in the parish magazine of 1964. Please see the Vicar's Letter area for these.