Vicar's Letter
May 2018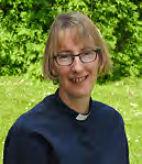 Tennyson wrote in the Idylls of the King that 'More things are wrought by prayer than this world dreams of.' Prayer is an important element in many religions. And there are lots of people of no particular faith who pray. A TearFund survey in 2007 revealed that 20 million adults in the UK pray. Of those, 13 million pray at least once a month and 9 million pray on a daily basis. One in three people believe that God answers prayer. As a theological student in Cambridge I had to do a survey on prayer along with another student, which involved knocking on people's doors and asking for their views. The results were fascinating with the majority of people we asked saying that they had prayed at least once in their lives.
Ghandi once said: 'Prayer is not an old woman's idle amusement. Properly understood and applied it is the most potent instrument of action.' If we believe that prayer makes a difference to the world, then it means we can all be involved in changing things for the better. For the good thing about individual prayer is that it can happen at any time and in any place. For Christians and for people of other faiths there is also an important place in our lives for corporate prayer. This happens in our services, both on Sundays and during the week.
One of the most well-known and well used prayers is the one Jesus taught his disciples when they asked him how to pray. Known as the Lord's Prayer it encourages us to address God as 'our father in heaven' and to ask him for all our needs as well as giving praise and thanks.
During the period between Ascension and Pentecost from 10th-20th May 'Thy kingdom come' an initiative of the Archbishop of Canterbury will encourage people across the globe to pledge to pray. Now in its third year, participation has grown every year. In 2016 100,000 Christians pledged to pray. By 2017 more than half a million people participated from 85 countries as diverse as Ghana, Korea, Cuba and the Falkland Islands. This is an ecumenical event and last year more than 50 denominations were involved. The website www.thykingdomcome.global says: 'The positive impact of Thy Kingdom Come 2017 continues to unfold as numerous stories of personal and communal transformation pour in from churches, families and whole communities alike.'
This year at St Mary's we will be holding prayer times each morning and evening during the 10 days of 'Thy Kingdom Come'. These will be led by a variety of people and will last about 20 minutes. There will be a special service on Ascension Day, 10th May at 7.15pm. To find out more visit our website www.stmaryseatonbray.org.uk or look out for the posters on the notice board. St Alban's Cathedral will be hosting a Thy Kingdom Come Beacon Celebration on Saturday 19th May at 6.30 p.m.
with Archbishop Justin Welby. It will be a collaboration between Soul Survivor Watford, local and national youth organisations, ecumenical partners, the Diocese of St Albans and the Cathedral.
The celebration will welcome people of all denominations and entry is free. Prayer and fun activities will run from 4 p.m. Do come along and get involved in this global prayer initiative.
Every blessing,
Joy (Vicar of Eaton Bray with Edlesborough)
---
Letter Archives
2018
Other Years
About the Vicar's Letter
The Vicar's Letter has been appearing in the villages Focus magazine since August 2002.
The Rev. Peter Graham also used to publish The Vicar's Letter in the parish magazine of 1964. Please see the Vicar's Letter area for these.