Vicar's Letter
April 2018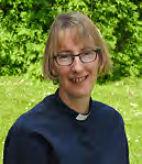 A New Start
Lots of TV programmes show people wanting to start a new life. Whether it's setting up a new business, moving abroad or learning a new skill, the schedules are full of people trying out something different. The desire to begin again is strong within us. Even in the pattern of the year, the changing seasons bring new life out of drab cold earth as winter turns into spring.
Easter is the most important festival of the Christian calendar for it is the culmination of God's plan of salvation for humankind. We may think that much preparation and planning goes into important events that we undertake. But God's plan of salvation took centuries to come to fruition. The Messiah had been expected for over a thousand years by the time Jesus was born. The one who would come to save his people was foretold by the prophets, but even so Jesus was not quite what people anticipated and failed to live up to many people's expectations. On Good Friday, it seemed that God's plan had all gone disastrously wrong. By the end of the day, Jesus was dead in the tomb, the terrified disciples were locked away in hiding and God's plan of salvation had failed. Or so it seemed.
Then the most awesome event in human history changed their lives forever. On the first Easter Day, Jesus was seen raised from the dead. Not only was he seen, but he spoke with his disciples, ate with them and appeared to a great crowd of people. On the road to Emmaus, he met with Cleopas and his companion and explained to them the sweep of God's purposes.
'Then Jesus said to them, "O how foolish you are, and how slow of heart to believe all that the prophets have declared! Was it not necessary that the Messiah should suffer these things and then enter into his glory?" Then beginning with Moses and the prophets, he interpreted to them the things about himself in all the scriptures.' (Luke 24 verses 25 to 27). It was not a mistake that Jesus had died on the cross, but part of God's plan for the salvation of humankind.
One of the reasons Christians celebrate Easter is that through Jesus' death and resurrection God offers us new life and a new beginning. And we don't have to go somewhere different to do it! As we come to God and say sorry for things we've done wrong in the past, we can be forgiven.
This is expressed in the following prayer. A penitent's prayer (author unknown)
Lord Jesus Christ, I admit that I am a sinner.
I confess my sins to you, especially those upon my conscience.
I firmly believe that you died for me to bear away my sins.
And now, according to your promise, I open my heart to you.
Come in, Lord Jesus, and be my Saviour and Friend for ever.
Amen.
With the past behind and a hope to come we can know the joy of a new beginning right here and now.
Happy Easter!
Joy (Vicar of Eaton Bray with Edlesborough)
---
Letter Archives
2018
Other Years
About the Vicar's Letter
The Vicar's Letter has been appearing in the villages Focus magazine since August 2002.
The Rev. Peter Graham also used to publish The Vicar's Letter in the parish magazine of 1964. Please see the Vicar's Letter area for these.