Vicar's Letter
November 2018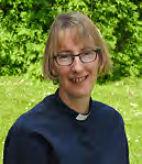 Remembrance Day this year falls on a Sunday exactly 100 years since the end of the First World War on 11th November 1918. Known as the 'war to end all wars' this first global conflict sucked in countries from Africa to Australia, from Europe to Asia. Troops were raised from all parts of the British Empire and other European Colonies. Indians and Africans in the colonies were conscripted to fight or serve as porters.
For example, in Kenya, if parents had an able-bodied son old enough to go to war, they were expected to encourage him to join military training and then fight with the British Army in East Africa. Most of the battles were against the Germans and the Italians and fought in Somalia and Tanganyika. This was war on an epic scale, causing millions of casualties and affecting an entire generation. The world changed forever in the aftermath of the First World War. Sadly, it was not the end to all wars.
Over the past four years, the UK has been remembering the events of the First World War. In 2014, many people were deeply moved by the ceramic poppy installation at the Tower of London. Paul Cummins, an international ceramic artist, supervised the creation of 888, 246 ceramic poppies, each representing a life lost in the Great War. They were all hand made and placed by hand in the Tower of London, cascading down and filling the moat. In subsequent years, a smaller installation of poppies moved around the country.
I visited the installations at the Yorkshire Sculpture Park, close to my previous parish in West Yorkshire, and the display at Caernarfon Castle in North Wales. The poppy, with its blood red petals, fragility and ability to bloom in the toughest of conditions is a powerful symbol of remembrance.
The vision of a better future is what motivated many of the people who fought for their country in both world wars. On Sunday 11th November beginning just before 11am we will hold the annual Act of Remembrance at the war memorial in Eaton Bray at St Mary's Church. We gather together to remember all who have lost their lives in conflict. And we also come to pledge ourselves to living better lives that we may help make the world a better place. The short service contains prayers for forgiveness for our own shortcomings. It includes a commitment to work for reconciliation and peace in our own communities and in the wider world. By recognising the ways in which we fail to live in peace with our families, friends and neighbours, we demonstrate the ways in which we can influence the building of a more peaceful society.
Sebastian Temple wrote these words based on a prayer of St Francis.
Make me a channel of your peace. Where there is hatred, let me bring your love.
Where there is injury, your pardon Lord; where there's doubt, true faith in you.
Make me a channel of your peace. Where there's despair in life, let me bring hope. Where there's darkness,
only light and where there's sadness, ever joy.
O Master, grant that I may never seek so much to be consoled as to console; to be
understood as to understand; to be loved as to love with all my soul.
Make me a channel of your peace. It is in pardoning that we are pardoned, in
giving of ourselves that we receive, and in dying that we're born to eternal life.
With every blessing,
Joy (Vicar of Eaton Bray with Edlesborough)
---
Letter Archives
2018
Other Years
About the Vicar's Letter
The Vicar's Letter has been appearing in the villages Focus magazine since August 2002.
The Rev. Peter Graham also used to publish The Vicar's Letter in the parish magazine of 1964. Please see the Vicar's Letter area for these.