Vicar's Letter
August/September 2018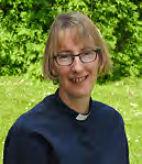 At this time of year, many of us will be going on holiday and that often involves a trip to the seaside. Sun, sea and sand make a winning combination. But there are growing concerns about our marine environment. 100 years ago, the shores of the British Isles teemed with fish. Today fishermen struggle to make a living. Cullum Roberts, Professor of Marine Conservation at the University of York writes: 'Where the bottom [of the sea] was formerly carpeted with sponges, sea fans, hydroids and weed, today it is possible to go diving and hardly see a single living thing.'
Years of overfishing, and the effects of pollution and climate change are leading to a breakdown in the functioning of the world's oceans. Considering that 70% of the earth's surface is water, healthy seas are essential to our wellbeing. But today there are whole areas which are dead or dying. Some of the symptoms include dead zones in which rotting matter has robbed the water of life-giving oxygen, plagues of jelly fish and disease epidemics. In some places, the whole ecosystem has begun to fall apart.
As the world's population increases so will the need for resources to provide food and drink. That is bound to have an impact on fish stocks. In order to preserve the oceans for future generations, it will require countries working together to limit overfishing. A recent report by the Food and Agriculture Organisation (FAO) of the United Nations has highlighted some of the issues. A third of the world's oceans are overfished, causing problems for those communities, often in the poorest regions, who rely on fish to survive. 'There is too much pressure on marine resources,' Manuel Barange, director of the FAO fisheries and aquaculture department told Reuters. 'We need significantly more commitments from governments to improve the state of their fisheries.'
Yet a staggering 35% of fish caught is wasted. One of the root problems is poor refrigeration which means that fish rot before they are able to be consumed. Food waste is a global problem. In the USA, total food waste accounts for around $218 billion a year. Another major issue is plastic pollution in the oceans. BBC's 'Blue Planet 2' graphically highlighted this. The crew who produced it said there was rarely a time then they were filming and they didn't come across plastic in the sea. 'Some scientists think that entanglement in marine plastic is the most significant welfare threat of human origin in the ocean,' says executive producer James Honeyborne. There is also the problem of tiny plastic particles which could be contributing to high levels of chemical contamination in large predators, such as pilot whales. 'It is now thought that plastics may play a role in increasing the uptake of pollutants into the body,' says Honeyborne.
We can become immune to such doomsday scenarios. After all, things are often exaggerated. But for Christians, one of our priorities should be to care for the earth and to protect God's creation for future generations. So what can we do? Although our contribution will be tiny, like a drop in the ocean, the ocean is made up of drops. We can make a difference, however small. We can ensure that the fish we buy is from sustainable sources. We can lobby politicians to ban the discarding of unwanted fish when it is caught up in fishing nets. We can be responsible in our use and disposal of plastics. Our concern for God's creation can inspire us to prayer and action to work to protect the future of our beautiful planet.
Joy (Vicar of Eaton Bray with Edlesborough)
---
Letter Archives
2018
Other Years
About the Vicar's Letter
The Vicar's Letter has been appearing in the villages Focus magazine since August 2002.
The Rev. Peter Graham also used to publish The Vicar's Letter in the parish magazine of 1964. Please see the Vicar's Letter area for these.