Vicar's Letter
February 2018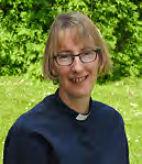 As I write this, we have just celebrated Epiphany. So this week, I have taken down the Christmas decorations and put them away for another year. Then it was time to begin the planning for Holy Week and Easter! Because Easter is early this year, we move hastily from the season of Epiphany (which ends at Candlemas on 2nd February) into the period of Lent (which begins on Ash Wednesday on 14th February). So, in terms of the Church's calendar, we pass from the anticipation and celebration of Christmas and Epiphany straight into the sombre season of Lent.
This mix of delight and sadness is a reflection of how life is for many people. Some are dealing with difficult and painful issues, like the illness of a loved one, a bereavement or financial worries. At the same time, others are excited at the prospect of a new relationship, a new job or anticipating the arrival of a new baby. In some families, both happy and sad events are happening simultaneously.
When Jesus was born as a human baby he came to share the richness of our human lives in all their joys and sorrows. He had times of fun and laughter as well as times of heartache and pain. In this, he was no different from every one of us. And our Church Year reflects these aspects of the life of Christ, from the happiness of Christmas through the penitence of Lent, from the agony of Holy Week to the glorious hope of resurrection at Easter.
As part of the Lent season this year, the North Chilterns Group will be meeting weekly for its Lent Group. This year we are following a five part study course based on the film 'The Way'. Starring Martin Sheen as a bereaved father, this soulful, amusing and uplifting film observes a group of pilgrims walking The Way of St James to Santiago de Compostela. As it follows their journey of inner transformation, we are invited to discuss the issues the film raises about the meaning of life and death. The course also explores biblical accounts and images of salvation past, present and future.
Meetings will be held at Totternhoe Church Hall on the first five Tuesdays in Lent (Tuesday 20 & 27 February, 6, 13 & 20 March) gathering at 7.45pm for an 8pm start. Everyone is welcome to come along. If you have never been to church before and you would like to think more deeply about the meaning of life, then this is a good opportunity to do so. It will be a relaxed approach with no pressure to join the discussion unless you wish to do so- and it is free! The other thing worth noting is that although the sessions are linked, each one will stand alone. So if you can't come every week that doesn't matter. I hope you will be able to come along.
On Ash Wednesday there is a service of Holy Communion with ashing at St Mary the Virgin, Eaton Bray at 10am to which all are welcome. There will also be a Communion Service with ashing at 7.30pm at St Mary the Virgin, Kensworth.
Wishing you all God's blessings for 2018,
Joy (Vicar of Eaton Bray with Edlesborough)
---
Letter Archives
2018
Other Years
About the Vicar's Letter
The Vicar's Letter has been appearing in the villages Focus magazine since August 2002.
The Rev. Peter Graham also used to publish The Vicar's Letter in the parish magazine of 1964. Please see the Vicar's Letter area for these.