Vicar's Letter
December 2003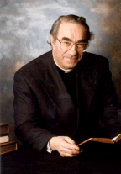 As Christmas approaches, the children get more and more excited. They just can't wait for Christmas to come and with it all sorts of wonderful surprises and good things. It's a pity that, as the preparations seem to take up more time and become even more expensive, many of the grown-ups grow increasingly jaded and stressed. If only we could go back to the expectancy and excitement of the children.
Christmas has always combined excitement and expectancy - and that potent combination is what Christians call hope. Long, long ago people looked forward to the coming of a Deliverer with a real hope for a brighter future, and in the season of Advent the church remembers their waiting for God to act. We remember too the young, pregnant woman, Mary, waiting for the birth of her first child, with all the confused emotions that can bring.
Behind all the hustle and bustle, there is an important message of hope for all of us to hear, for Jesus comes into our world as the living demonstration of God's love for us and God's commitment to make this world He shares with us a better place. This past year has brought tragedy into many people's homes, and news broadcasts keep on reminding us of the problems and threats in the world today. But behind it all the angel-voices still sing out from Bethlehem, promising "peace on earth to people of goodwill", and the challenge of Christmas is to see beyond the outward appearance of events to their inner core, where our loving God is still working to bring about what He has promised.
At that first Christmas, everything depended on the willing co-operation of one young woman - without her "yes" all God's plans would have come to nothing. It's still the same today. God's plans depend on the commitment and energy of men and women of goodwill to bring them to fruition. He can't override our selfishness and greed because He has given us the freedom to choose. God has to wait too: to wait for our willingness to become part of His plan to make the world a better place, and to start living now in hope for what is yet to be.
May the peace and joy of Christmas be with all of you in your homes this year, and may the New Year bring us all many blessings and new opportunities for serving God and serving those around us.
God bless you all. MALCOLM
---
Letter Archives
2003
Other Years
About the Vicar's Letter
The Vicar's Letter has been appearing in the villages Focus magazine since August 2002.
The Rev. Peter Graham also used to publish The Vicar's Letter in the parish magazine of 1964. Please see the Vicar's Letter area for these.