Vicar's Letter
February 2003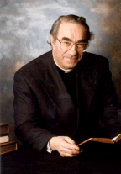 We have now caught up with the rest of the Church of England! We are now using "Common Worship", the Church of England's new Prayer Book for all our services, and this, of course, will apply to the special pastoral services - baptisms, weddings and funerals - in the Parish Church as well as to the ordinary Sunday services.
Much of the new services will already be familiar, but they include a richer range of material for different occasions, which will enable us to enter more fully into the meaning of the different seasons of the church's year, and to match the pastoral services to individual needs and circumstances.
To enable everyone to follow the service and participate fully, we shall have a separate booklet for each season. At the moment these are experimental - so why not come and find out for yourself? A small Worship Group will shortly be established to guide the development of these changes, and we shall be preparing a questionnaire to get reactions from as wide a range of people as possible. All of this will help us week by week to make our services the worship of this particular community of faith.
Worship is one of the most important human activities. There are many things in life which command our respect and excite our admiration, and from these we derive the particular values and aspirations which guide our decisions and control our lives. Behind everything that is good, wonderful, wholesome and honourable is the loving hand of God our Creator, and the respect, admiration and reverence we show for Him finds its supreme expression in worship and in lives that reflect His love and truth. It is in worship that we become most fully ourselves, for worship places us in the right relationship to God, and also helps us to realize the best of our own nature.
May the peace and love of God surround you and your families, MALCOLM
---
Letter Archives
2003
Other Years
About the Vicar's Letter
The Vicar's Letter has been appearing in the villages Focus magazine since August 2002.
The Rev. Peter Graham also used to publish The Vicar's Letter in the parish magazine of 1964. Please see the Vicar's Letter area for these.