Vicar's Letter
April 2003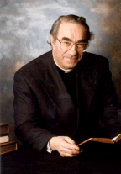 A breakthrough is always cause for celebration. A breakthrough in medical research brings new hope to the victims of a crippling disease, and we all long to hear of a breakthrough in the peace processes in Northern Ireland and Israel, or in the problem of world hunger. The first space satellite was a breakthrough in science, as was the journey of the first astronaut. Things can never be the same again.
Like me, you may have been gripped by the story some time ago of the rescue of miners trapped underground in Pennsylvania. A shaft had to be cut down to where they were trapped, and there was great drama as various things went wrong, until eventually the drill pierced the ceiling, and the prospect of rescue became a reality. That moment really was a breakthrough. A breakthrough does not solve the whole problem, but opens up new possibilities by clearing away the barriers which prevent a solution being reached.
This month Christians all over the world celebrate the greatest breakthrough of all - Easter, when the crucified Son of God was raised to life again after dying for us on the cross. That was a breakthrough of life and love - things could never be the same again. The world did everything it could to deflect Jesus from the path of self-giving love, but he went on, even praying for those who caused his sufferings. In consequence, death could not imprison him in its grasp, and his love burst free. Easter proclaims the victory of love over hatred and life over death, and that brings new hope to our strife-torn world.
That really is something to celebrate. So why not join us in church this Easter to do just that? MALCOLM
---
Letter Archives
2003
Other Years
About the Vicar's Letter
The Vicar's Letter has been appearing in the villages Focus magazine since August 2002.
The Rev. Peter Graham also used to publish The Vicar's Letter in the parish magazine of 1964. Please see the Vicar's Letter area for these.