Vicar's Letter
July 2003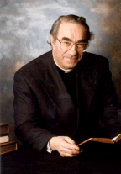 It's nearly time for summer holidays. The children are looking forward eagerly to the end of school, and grown-ups are making their holiday preparations, looking for an escape from the pressures and demands of work and daily routine. "You need a holiday", we say to someone who is looking care-worn and harassed; "I need a holiday", we say when things are not going well and we're not giving of our best.
When I was at school, the final assembly of the school year always involved the School Chaplain (one of the local ministers) saying in his droning pulpit-voice, "holidays are holy days". There is, of course, profound truth in that comment, for many of our public holidays were originally religious festivals, and the Bible recognizes our need for time out: relaxation and refreshment are essential to healthy human living. The Old Testament has a double rhythm of holidays - a yearly cycle of festivals, and the weekly cycle of six working days followed by a day set apart for rest, relaxation and worship.
There is a profound perception of basic human needs here. We need variety in the fundamental routines of life - work, leisure, hobbies and rest. But we also need something that takes us out of ourselves, lifts us up, and renews our vision of the purpose and goal of all our efforts. To make one day a week different, and to dedicate it to such ends, is important for nurturing and renewing us.
This is why the observance of Sunday is so important to Christians. To sanctify one day to God helps us to serve Him every day; to come together in worship on one day sets the tone and the priorities for the following week. To lift up our hearts to God in worship renews our vision of what really matters in life, and gives us joy and strength for all that lies ahead. I am greatly encouraged by the people who say to me, "If I don't go to church on Sunday, the whole week seems out of joint". Sunday is not a kill-joy day, but a weekly holy-day, to refresh us and set us on the right track for the coming days.
Why not try it? Enjoy your summer holidays, wherever they take you - then come and share our weekly holiday with God, every Sunday morning in church. God bless you all. MALCOLM
---
Letter Archives
2003
Other Years
About the Vicar's Letter
The Vicar's Letter has been appearing in the villages Focus magazine since August 2002.
The Rev. Peter Graham also used to publish The Vicar's Letter in the parish magazine of 1964. Please see the Vicar's Letter area for these.