Vicar's Letter
June 2003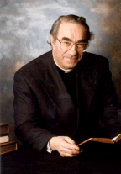 At the Annual Meeting of Parishioners on 29 April, Norah Coates and Sally Taylor were elected as the Churchwardens of our Parish for the coming year. Tyrone Spence stood down as Churchwarden after a demanding four-years in office, and thanks were accorded to him for all he has done for the church and the wider community in that period. We shall miss his infectious enthusiasm and energy.
It was good to see such a large attendance at the meeting, and at the following Annual Parochial Church Meeting, reflecting the health and vitality of our church. During the year forty names have been added to the Electoral Roll, and it is good to see church attendances rising. We hope to continue that trend and build on this year's achievements, and would extend a warm invitation to all parishioners to join in the worship and activities of our churches in Eaton Bray and Dagnall - you can be sure of a warm welcome.
Our first "Worship for Everyone" service was enjoyed by everyone, and some of our children did very well in helping to conduct it. These services are a deliberate attempt to combine the formal and the informal in our worship, as well as contemporary and traditional elements, so that the resulting service has something for everyone in it. The next one is on Sunday, 8 June - so why not come along and see for yourself?
May God bless you all. MALCOLM
---
Letter Archives
2003
Other Years
About the Vicar's Letter
The Vicar's Letter has been appearing in the villages Focus magazine since August 2002.
The Rev. Peter Graham also used to publish The Vicar's Letter in the parish magazine of 1964. Please see the Vicar's Letter area for these.