Vicar's Letter
November 2003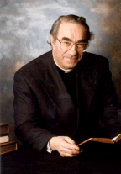 Our village communities have been saddened and shocked by the very sudden deaths of two prominent citizens, Tom Thorne and Brian Peevor. Both were in full vigour one day, and dead the next, something which we all found almost impossible to believe at first. They were both pillars of our community, respected by all, and active in many different spheres of local life. They will both be greatly missed, and we offer our deepest sympathy to their families and friends.
It is a salutary reminder to all of us of the reality of death. We don't like to talk about death - it is the great modern taboo. But the truth is that from the moment we are born there is only one absolute certainty before us: that one day we must die. We can't escape it, and while no-one wants to be morbid, we should be prepared to speak about it, especially with those closest to us. After all, as we have been reminded so dramatically, there may not be the chance when our time actually comes.
One of the ways we can show our care for those we leave behind is to leave our affairs in order. Have you made a will? Do your executors know where to find it? Will they be able to find out easily about bank accounts, pension, insurance and all the other things they will have to deal with quickly at a time when the brain is often half numb with grief. I know from long years of experience that if your loved ones have some idea of what arrangements you would like to have made for your funeral, it makes the sad task of organizing it so much easier, because they can proceed with confidence, knowing that they are carrying out your wishes rather than having to try and guess what you would have wanted. In the long run, our conspiracy of silence about death creates more problems than it solves.
The month of November with its autumnal gloom reminds us of death, as the darkness closes in and the leaves fall. On Remembrance Sunday we think of those who gave their lives in two World Wars and in subsequent conflicts, and of those still serving in arenas of conflict around the world - the Act of Remembrance this year will be at the Edlesborough War Memorial at 10.50am on Sunday, 9 November (and the Sung Eucharist at St Mary's will begin at 9.30 on that day). Because of that, our monthly informal service, Worship for Everyone, will be a week early, on Sunday, 2 November (All Saints Sunday) at 10.00am. We shall also remember our loved ones who have died at the All Souls' Day service, at 8.00pm on Monday, 3 November, and pray that they may rest in God's eternal peace and be raised to the fullness of eternal life with Christ. These are also moments that remind us both of our mortality and of our eternal destiny within God's loving purpose for us, and it's an opportune time to pause and think about how well we have prepared for the one certain thing that we must face.
May God grant comfort to all those who mourn, and bring us all to His eternal joy. MALCOLM
---
Letter Archives
2003
Other Years
About the Vicar's Letter
The Vicar's Letter has been appearing in the villages Focus magazine since August 2002.
The Rev. Peter Graham also used to publish The Vicar's Letter in the parish magazine of 1964. Please see the Vicar's Letter area for these.