Vicar's Letter
December 2006
So many of the pains and sorrows of our modern world are reflected in the Christmas story. Because we want Christmas to be a joyful time of family celebration, we sometimes try to push the darker side of the story away, and so miss its resonances with the sufferings of the world today.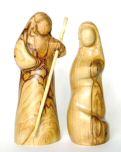 It starts with a young unmarried girl being found to be pregnant in a society which ostracized such people. It tells of an expectant mother forced by anonymous bureaucracy to make a long and hazardous journey to complete census- and tax-returns, of a homeless couple seeking shelter, of a mother giving birth in a stable with only a cattle-trough in which to lay her new-born child, and of the murderous jealousy of a psychotic ruler, and the rampage of his troops through a peaceful villages, slaughtering little children and all who sought to protect them. It tells of a refugee family seeking asylum in a foreign land.
But these are not anonymous statistics on some register of human rights violations, and case-notes in a dossier of crimes against humanity. These are stories about named people. The young mother is called Mary, and her baby was called Jesus. They travelled the long road from Nazareth to Bethlehem to register for the imperial census, and the only place available for Jesus's birth was a stable. And they fled to Egypt to escape Herod's sword. These are real people - just like the ones in today's stories.
We celebrate this story because it speaks of God's involvement in all these human tragedies, and of God's answer to them. For most of us, Christmas is a time of joy and family celebration, with parties, presents, pantomimes and plenty of fun. But we need to recover the real message of peace and salvation to recognize how Christmas can bring light and hope and peace to people who still suffer these terrible injustices. We need to be reminded when we hear of refugees that the Son of God was once a refugee, that his family had to flee by night from the rampaging militia, that God's own Son was squeezed out of busy, self-interested human society into a stable. There is solace for the victims in knowing that God Himself is with them in their sufferings and Christ still bears their pains in heaven.
That God identifies Himself with today's human victims gives them a new significance - God's concern becomes our concern. That is part of the message of "God with us" at Christmas, and through the pictures we see night after night on our televisions God is challenging us to do what we can to alleviate their sufferings. Christmas stirs our consciences and challenges our charity. We spend a great deal of money on people who already have plenty - can we not do something for those who have little or nothing? Oxfam and Christian Aid have schemes whereby we can send a present to a developing nation of livestock or medical equipment or educational materials; Shelter and other charities provide help for the marginalized in our own society. Would that not be an appropriate response to the darker side of the Christmas story, as we celebrate the bright and joyful side?
May Christmas bring joy and hope for you and all whom you love, and may our generosity bring joy and hope too to those who most need it in today's world. A peaceful and blessed Christmas to you all. MALCOLM
---
Letter Archives
2006
Other Years
About the Vicar's Letter
The Vicar's Letter has been appearing in the villages Focus magazine since August 2002.
The Rev. Peter Graham also used to publish The Vicar's Letter in the parish magazine of 1964. Please see the Vicar's Letter area for these.