Vicar's Letter
November 2006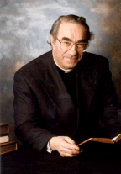 Again we come round to November, the month of Remembrance. On All Souls' Day (2 November) the Church gathers to remember the faithful departed, and the families of all those whose funerals have been conducted by the clergy of this parish in the past year have been invited to our special Requiem Eucharist at 8.00pm on that day. We shall be delighted to welcome anyone who wishes to come and remember a loved one and to join in our prayers.
Our Parish Act of Remembrance takes place this year at Eaton Bray War Memorial (see panel for details). As we gather there we shall be remembering British service personnel who have died in Iraq and Afghanistan, as well as those who died in two World Wars and in the other conflicts of the 20th century. It is a sombre and saddening thought that we continue to add names to the roll of those who have given their lives in war, and that across the world millions of people live in daily fear of gun and bomb. When will human beings find the moral courage to rely on other means to resolve national and international disputes?
These conflicts in distant lands which still involve our own forces remind us of the interdependence of all peoples on planet earth. What happens in one place does have repercussions in other places, and this island nation cannot become insular in its attitudes. We must recognize our own part in so many of the current problems of the world, whether it be in drawing aribitrary boundaries for nations created out of the devastation of war, or in using colonies for our own benefit, or in economic policies which leave so many people trapped in poverty. We need to be engaged in calm and realistic dialogue with all the international agencies in the quest for just, peaceful and lasting solutions to the problems which tear our world apart. In today's "global village" we cannot shrug off the desperate concerns of other nations as "nothing to do with us".
Your local church is playing its own small part in this by its support this year for the Hospital at Kagando in south-west Uganda, a centre for medical treatment, health education and community development in that area of a nation which has so many problems to tackle. We are grateful to the many people in our villages who have already supported fund-raising efforts this year, and invite you to help us help Kagando by coming along to our Christmas Fayre on 18 November. The proceeds will be divided between our own church, where the nave roof has been repaired and completely re-leaded this summer, and Kagando Hospital. Even though we need to raise a lot of money for repairs to our own church, we believe it is still imperative that we do what we can to help others - that is how the spirit of Jesus translates into positive action.
MALCOLM
---
Letter Archives
2006
Other Years
About the Vicar's Letter
The Vicar's Letter has been appearing in the villages Focus magazine since August 2002.
The Rev. Peter Graham also used to publish The Vicar's Letter in the parish magazine of 1964. Please see the Vicar's Letter area for these.