Vicar's Letter
May 2006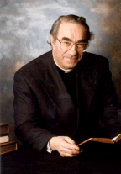 One of the major events in the Calendar for May is Christian Aid Week (14th-20th), and you will receive an envelope for the house-to-house collection with this month's issue of "Focus". I do hope that you will put a donation in it, and return it when the collector calls at your door. Uncollected envelopes can always be handed in at any of the churches, or put through the Vicarage letter-box.
In recent years we have significantly increased the amount raised in our villages for Christian Aid - last year and the year before it was well over £3,000 - and I want to thank everyone whose generosity made such a magnificent total possible, as well as our team of collectors, without whom none of it would happen. Nationally, Christian Aid Week brought in £15 million, out of a total income of nearly £80 million. It sounds a lot, but Christian Aid is one of the major aid agencies, working with over 500 organizations in more than 50 countries around the world.
It is essentially a people-based organization, working through local networks to get money and aid directly to where they are needed, whether it is helping people who are victims of a natural disaster, or those who struggle to live with the long-term effects of poverty and under-development. It is a sobering thought that more than half the people in the world have to try to survive on less than $2 a day, and Christian Aid's task is to help them to escape from the poverty trap, by improved farming methods, by providing a safe water-supply, by setting up small local industries, and by putting people in touch with traders who will pay them a fair price for their produce.
"We believe in life before death" has been a Christian Aid slogan for many years - and your generosity this May can give poverty-stricken people and disaster-victims a real hope of a new and better life, so, please, do all you can to help. And remember, if you are a UK tax-payer, you can increase the value to Christian Aid of every £1 you give by 28p by signing the Gift Aid details on the envelope to enable Christian Aid to reclaim from the Exchequer the income tax you have already paid on your gift.
In recent years Christian Aid has become active in the lobbies for fairer trading methods in the world. This church-based organization has embraced a policy of "Making change happen", because (and I quote) 'we know that change isn't just about providing seeds and tools, but about tackling the reasons for poverty and looking for solutions that last.' Christian Aid has a three-fold programme:
Speak out on the issues;
Deliver real, practical benefits to the people directly affected;
Build a global movement to work for real change.
Christian Aid is the caring hand of the churches stretched out in compassionate concern for all the less fortunate people in the world, and we are asking the whole community to help in this vital work of life and hope, particularly during the special week this month. Thank you for your support. MALCOLM
---
Letter Archives
2006
Other Years
About the Vicar's Letter
The Vicar's Letter has been appearing in the villages Focus magazine since August 2002.
The Rev. Peter Graham also used to publish The Vicar's Letter in the parish magazine of 1964. Please see the Vicar's Letter area for these.