Vicar's Letter
August/September 2006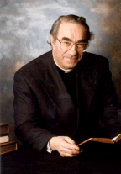 The World Cup is over for another four years, and even casual watchers are likely to remember the red cards shown to Wayne Rooney and Zinédine Zidane for acts of violence on the pitch. It now appears that each action was a response to vicious personal insults, intended to rile them as key players in their teams. No-one can condone outbursts of violence on the football pitch – or anywhere else for that matter – but we must also condemn the decline of sportsmanship which tolerates the trading of insults on the field in an attempt to undermine the opposing team. So much for sporting ideals!
Sports personalities become national idols, and however much we may regret it, these stars become role-models for many of our young people. This is why their behaviour is more than just a matter of good sportsmanship. For one of them to lash out in the heat of the moment seems to give permission for folk in the street and in pubs and clubs to respond similarly when verbally provoked.
Modern society has a problem with respect and with self-control. The general rise of anti-social behaviour, binge-drinking, street crime, road-rage and dishonesty are the result of not nurturing habits of restraint and respect from our earliest days. We have to learn how to control our violent instincts, and to give proper consideration to the rights and needs of others. It is alarming to hear how many young people in towns and cities carry knives "for self-protection", and recent news stories how tragic the outcome can be. It is no use muttering, "the government should do something about it", because it actually needs a change of attitude among the general populace for any government policy to be effective. It is up to all of us to do something positive.
But it goes deeper than that. It is not true to say "sticks and stones may break your bones, but names can never hurt you", because we all know that carefully targeted insults can be deeply wounding.
But to lash out is not an appropriate response; that is the lesson we all need to learn, and the earlier in life the better. It has been truly said that civilization is the difference between what goes on in people's heads and what they actually do. We all have violent thoughts and fantasies, and we are all tempted to a violent response, but these have to be restrained in a civilized society. And those who live in the public eye and grow rich on publicity have a responsibility to set the example for others to follow. If we pay footballers such grossly inflated salaries, then, surely, we have a right to expect something in return from them. But everything depends on our learning how to control our reactions to minor provocations first – only after that can we hope to develop the self-control we need to behave properly in the face of real aggression, physical or verbal.
Self-control is a much under-valued quality these days. Perhaps the World Cup 2006 has reminded us of its true importance; if so, that is something for which we should all be grateful. But we also need to take the lesson to heart. MALCOLM
---
Letter Archives
2006
Other Years
About the Vicar's Letter
The Vicar's Letter has been appearing in the villages Focus magazine since August 2002.
The Rev. Peter Graham also used to publish The Vicar's Letter in the parish magazine of 1964. Please see the Vicar's Letter area for these.