Vicar's Letter
November 2020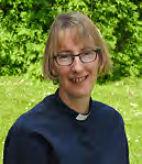 We continue to live in extraordinary times and as we approach the season of Remembrance in November, many of us will be looking back wistfully at how different life was only 12 months ago. During the current Covid-19 pandemic, it has been difficult to plan ahead as the rules change so often and so swiftly. We are delighted that St Mary's church has been open for services since the beginning of August. We are now holding services on Sundays at 10am and Wednesdays also at 10am. The church is laid out to enable social distancing and everyone is asked to wear a face covering in church. Despite the restrictions, it has been good to meet together for worship and to receive Holy Communion. The online service continues on St Mary's website, the church Facebook page and the church YouTube channel for those who are unable to come to the services in church. And from the middle of October, All Saints' Dagnall will be open for services once a month. The service for November will take place on Sunday 15th November at 10.30am.
We are hoping to be able to mark Remembrance Sunday with a short service in St Mary's churchyard at 10.45am on 8th November. Numbers for this act of Remembrance will be limited due to Covid-19 and we will be following the guidelines which are in place at the time. There will be more information on the church website https://www.stmaryseatonbray.org.uk. Please check this for the latest situation or look at the church noticeboard on High Street for further details. We also hope to be able to have a Service of Remembering in church at 3pm for those who've lost loved ones during the past year. This will be a ticketed event to enable us to keep within the social distancing guidelines for church. If you would like more information, contact us at [email protected]
In the Bible, God's people spent time remembering the past and asking for God's help for the present. In the Psalms particularly we see this pattern refl ected. Psalm 46, for example, tells of the Psalmist's trust in God despite all the difficulties which surround him. 'God is our refuge and strength, a very present help in trouble. Therefore we will not fear, though the earth should change, though the mountains shake in the heart of the sea; though its waters roar and foam, though the mountains tremble with its tumult.' (Psalm 46 verses 1-3) Despite all that is happening around him the Psalmist puts his trust in God as his refuge and strength. It is a reminder that throughout history, people have faced very difficult times. We too may feel overwhelmed by the difficulties we face. But I believe God is there, ready to listen to our problems, ready to be our refuge and strength as we call out to him.
The following prayer was written for the Coronavirus pandemic and is used in our online service each week.
Keep us, good Lord,
under the shadow of your mercy
in this time of uncertainty and distress.
Sustain and support the anxious and fearful,
and lift up all who are brought low;
that we may rejoice in your comfort
knowing that nothing can separate us from your love
in Christ Jesus our Lord. Amen.
With every blessing,
Joy (Vicar of Eaton Bray with Edlesborough)
---
Letter Archives
2020
Other Years
About the Vicar's Letter
The Vicar's Letter has been appearing in the villages Focus magazine since August 2002.
The Rev. Peter Graham also used to publish The Vicar's Letter in the parish magazine of 1964. Please see the Vicar's Letter area for these.