Vicar's Letter
October 2020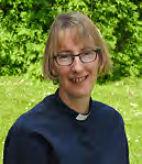 Each year St Mary's church supports the Bishop of St Albans' Harvest Appeal. It is a reflection of our thanks for all that we have received through God's bounty. The Bishop's Appeal for 2020 is set in South Asia, in the beautiful, mountainous, landlocked country of Nepal. It's only five years since Nepal suffered two major earthquakes, devastating lives, infrastructures and livelihoods. Like many people there, Manish - a husband, father and pastor - struggled to recover from the devastation caused, especially as the village's water supply was severely damaged. Families were forced to make four trips a day to neighbouring villages to collect enough water to drink and wash, leaving little time or energy for their normal farming work. As result, this farming community was in dire need of extra income to feed and provide for families. Beekeeping was the solution.
With the benefits of training offered through the local church, Manish and his family's lives have been transformed through beekeeping. The approach of this training programme, Church and Community Mobilisation (CCM), is to assess what resources are readily available to a community (for example, land, livestock) and use these to implement a plan out of poverty. In this case the answer was bees. Before the earthquakes, Manish had an interest in beekeeping and owned a beehive. With the support of CCM training, Manish saw the potential to generate new income for his family, and quickly expanded from owning one to six beehives. He learnt how to look after the bees properly, and began to sell organic honey, candle wax and other bee-related products. Encouraged and motivated, Manish is growing his beekeeping activity and now runs a successful business. He keenly passes on what he has learnt and encourages others in his community to get involved and work together. Manish's faith in God and entrepreneurial attitude have inspired many other people to build a sustainable livelihood for their own future, too.
This year around 900 people can be helped to rebuild their lives through beekeeping businesses. Bees are an important part of our natural world, particularly now in Nepal, where communities are still recovering from the tragic earthquakes, and with concerns of climate change, deforestation and the need for pollinators, bees are a very valuable commodity. If you would like to help other Nepalese people, like Manish and his family please look on the church website for details of how to get involved.
Bishop Alan writes: 'The UN tells us that, of the one hundred crop species that provide 90% of the world's food, more than seventy are pollinated by bees. Promoting beekeeping is, therefore, not just good for the people of Nepal directly affected by this project, but also good for the wellbeing of their country and its ecology, and that of neighbouring countries. St John of Chrysostom said: 'The bee is more honoured than other animals, not because she labours, but because she labours for others.' Please join me, this Harvest, in honouring not just the people of Nepal, but also the humble and essential bee who sets an example to us all in these times.'
St Mary's church is open for services on Sunday and Wednesday both at 10am. We will be remembering St Francis of Assisi and celebrating creationtide on Sunday 4th October. Please come along and join us. Don't forget to bring your face mask!
With every blessing,
Joy (Vicar of Eaton Bray with Edlesborough)
---
Letter Archives
2020
Other Years
About the Vicar's Letter
The Vicar's Letter has been appearing in the villages Focus magazine since August 2002.
The Rev. Peter Graham also used to publish The Vicar's Letter in the parish magazine of 1964. Please see the Vicar's Letter area for these.