Vicar's Letter
June 2020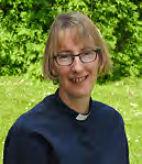 Usually at this time of year the four villages are getting ready to celebrate St Mary's village carnival. It is always held on the first Saturday in July and was due to take place on Saturday 4th July 2020. Sadly, due to the Coronavirus pandemic and the current restrictions, this year's carnival has had to be cancelled. We have been pondering how we could mark the day in a safe way and provide some entertainment by doing so. St Mary's are planning a Scarecrow Festival for the weekend of 3rd - 5th July which we hope you will join in with. Each household will be invited to decorate a scarecrow scene in their front garden. The theme will be 'Heroes' which gives plenty of scope. Perhaps you might like to represent some of the wonderful heroes who are doing truly amazing work on the frontline in the current crisis. You might want to choose your favourite super hero or a character from the Bible. Or you might think of something completely different!
One of the remarkable things about Carnival is the amount of money it raises each year for St Mary's and many other good causes. So we invite Households to donate an amount of their choosing to be split between St Mary's and Dunstable Foodbank. Currently the Foodbank is experiencing a huge rise in need with activity 43% higher than this time last year. Online donations will be via Give a little with information of how to give available on the St Mary's website and Facebook pages nearer the time. www.stmaryseatonbray.org.uk
If you want your entry to be judged, that can be done via the St Mary's Facebook page or by contacting Sue on 07772 901816 or via the email on the church website. Entries will be judged by committee with two judges from each village (Eaton Bray, Edlesborough, Dagnall, and Northall) who will then liaise to decide the winners. People could also photograph their favourite scarecrow and upload the picture to Facebook. There will be three prizes for the top voted entries. These will be cups and certificates.
I know that people in the villages spend a lot of time and effort decorating their houses each year for the procession of floats through Eaton Bray and Edlesborough. This year, anyone in the four villages can enter the Scarecrow festival as the judges will not be just covering the usual Carnival route and the festival will take place over the whole weekend. I hope you will want to participate in the Scarecrow festival with the same enthusiasm that Carnival generates and that the villages will look great with a wonderful display of heroes in people's gardens. And hopefully we will all be together again for St Mary's Village Carnival on July 3rd 2021.
Every blessing
Joy (Vicar of Eaton Bray with Edlesborough)
---
Letter Archives
2020
Other Years
About the Vicar's Letter
The Vicar's Letter has been appearing in the villages Focus magazine since August 2002.
The Rev. Peter Graham also used to publish The Vicar's Letter in the parish magazine of 1964. Please see the Vicar's Letter area for these.