Vicar's Letter
May 2020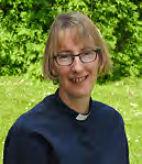 As I write this we are still in lockdown, confined to our homes as a result of the coronavirus pandemic. This is the most challenging situation which many of us have faced in our lifetimes. It is calling for great resilience, courage and inventiveness from us all. Many are worried about friends and family; about finances and the future. How will life be after the pandemic? Will we ever get back to normal? At times of deep difficulty, like many Christians I turn to the Bible. Within its pages are words of wisdom for almost every situation we can face. It covers the writings of generations of people. In fact, the Bible is a collection of books written over more than 2000 years. So I believe it has things to say to us even in our current situation.
During Holy Week, the week leading up to Easter, some of the Bible readings are from the Old Testament book of Lamentations. This is a collection of five poems lamenting the destruction of Jerusalem in 586 BCE. The poet talks of utter destruction, shattered lives, ruin and exile. There is a sense of grief, of profound sorrow and lament for what had gone before. Yet in the midst of it all, there is hope. The poet writes: 'The thought of my pain, my homelessness, is bitter poison; I think of it constantly and my spirit is depressed. Yet hope returns which I remember this one thing: the Lord's unfailing love and mercy still continue, fresh as the morning, as sure as the sunrise, the Lord is all I have, and so I put my hope in him.' (Lamentations 3 verses 19-24)
There is hope in God. And there is also hope in the wonderful expressions of solidarity and neighbourliness during this pandemic. Just to quote one email I received: 'In amongst the enormous life changes, the fear, hardship and uncertainty there are also wonderful examples of courage, humour, kindness, generosity and caring. Many, many silver linings to be sure!' Times of crisis often bring out the very best in people and the current crisis is no exception. If you are in need of support or a friendly chat, please contact Gaye from St Mary's Pastoral Group.
I believe that we can take comfort from the Easter message. Jesus has been raised from death so that we too can have the gift of eternal life as we put our trust in him. Like the first disciples, we will not be immune from trouble, challenges and difficulties. But we need not be afraid for God is with us, whatever our circumstances. He loves each one us. His 'unfailing love and mercy still continue, fresh as the morning, as sure as the sunrise.' There is hope for the future.
A prayer for the coronavirus pandemic.
Keep us, good Lord,
under the shadow of your mercy
in this time of uncertainty and distress.
Sustain and support the anxious and fearful,
and lift up all who are brought low;
that we may rejoice in your comfort
knowing that nothing can separate us from your love
in Christ Jesus our Lord.
Amen.
With every blessing,
Joy (Vicar of Eaton Bray with Edlesborough)
---
Letter Archives
2020
Other Years
About the Vicar's Letter
The Vicar's Letter has been appearing in the villages Focus magazine since August 2002.
The Rev. Peter Graham also used to publish The Vicar's Letter in the parish magazine of 1964. Please see the Vicar's Letter area for these.