Vicar's Letter
November 2008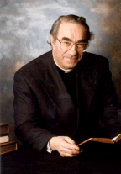 Church of England Marriage Measure, 2008
I am conscious of how often over the years I have had to disappoint a couple who wanted to be married in our Parish Church because they did not fulfil the legal requirement that one or other of them must be resident in this parish or a regular worshipper in our Parish Church. The Church must act within the law of the land in arranging for people to wed, and there was no legal way round this obstacle. I am pleased to be able to announce that since 1 October this situation has been eased considerably by the Church of England Marriage Measure, 2008.
This new piece of legislation responds to the increasing mobility of our society today, and provides for couples to be married in a particular church if they can demonstrate a "Qualifying Connection" with that parish. None of the existing rights of parishioners to marry in their parish church is affected, but these rights may now be claimed by a wider group of people for whom that church has a special significance.
The key question now is "what is a Qualifying Connection"? In very general terms, if a person wishing to marry can show that he/she was baptized in the parish, has his/her confirmation entered in the registers of that parish, or has at any time either lived in the parish for a continuous period of at least six months, or habitually attended public worship in the parish church for at least six months, then that person has established a Qualifying Connection. They will be required, of course, to produce written evidence to substantiate the claim as well as the customary evidence to confirm their identity. In addition - and this is the area which will make the most significant change - if a parent of the person wishing to marry in a particular parish lives or has lived in the parish for at least six months, or has habitually attended public worship there for that period, or if that person's parent or grandparent was married in the parish, this also establishes a Qualifying Connection. All references to a church or to a church service in these conditions relate solely to the Church of England.
I am sure this is a change - in the opinion of many of us, one which is long overdue - which will be welcomed by many, and I am delighted that I will no longer have to say "sorry, it can't be done" to people who have been brought up in our villages and have moved away, but would like to come back to be married in a place which has great significance for them. So I look forward to meeting people who want to take advantage of this change in the law in due course.
May God bless your homes, deepen the bonds of marriage, and grant us all His peace and joy.
MALCOLM
---
Letter Archives
2008
Other Years
About the Vicar's Letter
The Vicar's Letter has been appearing in the villages Focus magazine since August 2002.
The Rev. Peter Graham also used to publish The Vicar's Letter in the parish magazine of 1964. Please see the Vicar's Letter area for these.