Vicar's Letter
July 2008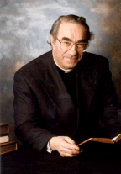 The late spring has given us ideal conditions for the weeds to grow in our gardens. In the warm and moist weather they seem to spring up as soon as your back is turned, and we have to spend time pulling them up to prevent them choking the plants we want to grow in the flower-bed or the vegetable plot. A few minutes work while the weeds are young soon gets rid of them - even if there will be more in a couple of days' time. But if you leave them, the problem quite quickly becomes much more serious. The weeds intertwine with the other plants, and the roots get tangled up, making the removal of the weeds a great deal harder, and eventually unmanageable.
Leave them for a long time, and you are really in trouble. It doesn't take the weeds long to establish a complex network of roots down in the soil, and whenever you try to pull them out, there is always some root left from which new weeds grow in no time. Anyone who has ever tried to eradicate nettles, or couch grass, or ground elder knows the problem! It soon becomes a job for spade and fork, not just a trowel or a hoe.
Jesus used pictures from the world of gardening and farming to draw our attention to the realities of the human spirit. It is so easy for us to start developing bad habits - just like weeds springing up. We may become selfish among our loved ones, or greedy, or angry or irritable; we may begin acts of petty dishonesty, taking short-cuts which jeopardize the quality of our work, or gossiping about neighbours or colleagues - the list can go on and on - but if we don't weed them out quickly, they soon become entangled in the pattern of our lives. Then we have a real battle on our hands to get rid of them. Bad habits are like weeds, and we are constantly exposed to the threat of their entering our lives, just like weeds.
During the summer most have us have a bit more time to play with: the pressures ease up a bit, and we have our holidays and time to relax. Might it be a good idea to do a bit of necessary weeding in our own lives while we have the chance? Get rid of some of the bad habits that are beginning to put down roots in our own conduct and attitudes? Remember what happens in the garden if you leave the weeds too long. Anyone who has ever tried to get rid of a long-engrained bad habit knows how hard it can be - it can make dieting seem a doddle!
Think how much better life would be, not just for ourselves but for all the folk around us, if we could each eradicate even a few of our bad habits. How about it? Some summer-time weeding in our own lives? It will be well worth the effort - but don't keep putting it off. And have a good holiday.
MALCOLM
---
Letter Archives
2008
Other Years
About the Vicar's Letter
The Vicar's Letter has been appearing in the villages Focus magazine since August 2002.
The Rev. Peter Graham also used to publish The Vicar's Letter in the parish magazine of 1964. Please see the Vicar's Letter area for these.