Vicar's Letter
February 2008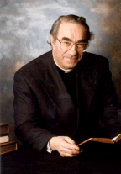 On the first Sunday of the New Year I had the pleasure of handing over to representatives of the Chilterns Multiple Sclerosis Society the results of our fund-raising on their behalf during 2007, a grand total of £6,137. It is a tremendous achievement, and I want to take the opportunity, on behalf of your Parish Church, of thanking everyone who supported us and helped to make this grand total possible.
When I was a choirboy, one way we used to occupy ourselves during long sermons (apart from playing surreptitious games of 'hangman') was to explore the unfamiliar parts of the Prayer Book. One of the more interesting bits was the "Table to find Easter Day", which meant you could work out when Easter would fall in any year up to 2199! From those childish researches I know that the earliest possible date for Easter is March 23 - it has to be the first Sunday after the first full moon after the vernal equinox (the first day of spring) - and that is the date of Eater this year.
This means that Lent begins very early - Ash Wednesday is 6 February - and Whitsun will be 11 May. This has all sorts of unexpected consequences, e.g. the school Easter holidays set by our two counties will be entirely different, and unless we have some very mild weather it may be difficult to find spring flowers for Mothering Sunday (2 March).
Lent is a time when we are encouraged to reflect on our life-style and see what could be improved. Giving up being grumpy is probably far more significant than giving up sugar in your tea! After all, much of the traditional emphasis of Lent was on our relationships with God and other people, and it is important for all of us to take stock of our significant relationships from time to time to see if there are ways in which we can improve them, and to recognize habits and attitudes which undermine them.
Another important area for review at this time is our own personal "carbon footprint". It is easy to say that the scale of the problem is so vast that nothing I can do will be of any significance, but that simply is not true. The sum of lots of people's tiny contribution can make a real difference, and Lent is a good time for us to think about the way we use our cars and the sort of car we use, our use of power domestically (including all the lights we leave on and appliances which are left on "stand-by"), our travel arrangements, the food we eat and the waste we generate. These all contribute to global warming, and are all relatively simple problems to address. Can Lent 2008 lead us all to a healthier, greener life-style? If so, it can have an immediate advantage for us personally, as well as being part of our response to what is possibly the most important environmental issue of our day. A more sustainable lifestyle now means a better future for our children and grandchildren.
This all sounds like a "secular Lent", but, of course, I would want to encourage people to make Lent 2008 a time of spiritual growth as well. Perhaps if you have got out of the habit of going to church Lent or Easter this year could be a time of making a return visit. You know you will always be welcome at St Mary's. May God's love and blessings surround you throughout this New Year.
MALCOLM
---
Letter Archives
2008
Other Years
About the Vicar's Letter
The Vicar's Letter has been appearing in the villages Focus magazine since August 2002.
The Rev. Peter Graham also used to publish The Vicar's Letter in the parish magazine of 1964. Please see the Vicar's Letter area for these.