Vicar's Letter
June 2008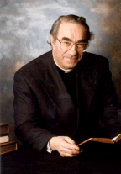 "We got it wrong." It is refreshing to hear a politician admit to having made a mistake. So often we are treated to blustering and prevarication intended to make us think that everything is going to plan. And that is why so many people today have little respect for politicians and little faith in the political process.
To admit when you're wrong is an integral step towards putting things right again. Wrong actions can injure people or harm their interests, and that has to be admitted and faced before the damaged relationship can be put right again. But where there is no admission of error, no apology, no sense of being sorry, then the injury remains and often festers, making the situation worse and worse. Reconciliation demands that both sides are prepared to take positive steps: to admit the wrong and make amends, and to accept the apology and extend forgiveness.
This is important on the big stage - but it is equally important in personal and family relationships. There is nothing laudable in never admitting you are wrong - just plain pigheadedness. We all make mistakes, and the big people are the ones who can admit it. So much goes awry in family life when people cannot face their own shortcomings and talk about them; so much goes wrong when hurt cannot be faced and dealt with. The same is true in the office and the workplace, in clubs, and even in churches! It is true in communities and nations as well, and many of our contemporary problems are caused, in part at least, by this basic lack of honesty and consideration, and by the build-up of distrust and resentment.
I have just finished reading the official biography of Archbishop Desmond Tutu ("Rabble-Rouser for Peace" by John Allen, if you're interested), who played a pivotal role in the work of the Truth and Reconciliation Commission in South Africa, which dealt with the crimes and injustices perpetrated by both sides in the struggle against apartheid. His vision was of a multi-racial nation liberated from resentment, guilt and anger, by a process of facing the awful reality of what people had done to one another, of giving amnesty in response to an admission of guilt, and of making reparation to the victims of violence and oppression, instead of trying to pretend things did not happen, of the guilty never having to confront their crimes, and of the voice of victims never being heard.
"We got it wrong. We're sorry. Can we try again?" These are the words that can restore broken relationships and draw the sting of injury and damage. One thing that makes it harder to utter them is the readiness with which people resort to law in the quest for compensation. "It's someone's fault, and they will have to pay for it" is a disincentive to owning up and being honest. But in many day-to-day situations that is not likely to occur. But neither is reconciliation unless someone is prepared to make the first move.
If we all had the courage and the humility to admit our mistakes in the little things of life, the world would be a much happier place. And that would make it easier to face up to the big issues of life - and then we really would start making a difference to the world in which we live.
MALCOLM
---
Letter Archives
2008
Other Years
About the Vicar's Letter
The Vicar's Letter has been appearing in the villages Focus magazine since August 2002.
The Rev. Peter Graham also used to publish The Vicar's Letter in the parish magazine of 1964. Please see the Vicar's Letter area for these.