Vicar's Letter
October 2005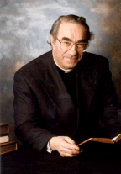 Few deaths have been felt more widely or more deeply in our community than that of Norah Coates, who worked devotedly for the village and for our Parish Church for many years. Many tributes have been paid to her, but prominent among them must be our recognition of the courage, dignity and serenity with which she faced a long, devastating illness and the prospect of death. The way we die reflects the way we live, and Norah's dying reflected her quiet deep faith, her concern to help not burden others, and her innate personal dignity and integrity. For many it was a privilege to sit with her during those difficult last months, and to come away feeling she had given something to us. We offer Ken, Lynda and Jenny and their families our heartfelt sympathy and the support of our prayers.
That we must die is the most certain of the facts of life. It is not morbid to remember our mortality, and because our dying will always be one of the most traumatic things our loved-ones have to face, we should give some thought to it while we are hale and hearty. Because of recent advances in medical science, our generation tends to put off any thought of death so that we can "concentrate on living"; but when the crisis comes we shall have little to fall back on unless during our years of vigour we have been building up those qualities which will enable us to face the end at peace. Part of our fear of death comes from not having thought about it, and dying strips away the masks behind which we hide our true nature and personality. This is even more important for those who believe that death is not the end, but that beyond death lies a new life. For Christians that is a promise made to us by Jesus Himself, and declared openly in His rising from the dead.
Beyond death lies God, the God who has created us and sustained us by His love all our days. We need not fear death because we know He will carry us through the unknown to a "place prepared for us" as Jesus promised. But we need to concentrate on being the best we can be when we embark on that adventure, to present ourselves to Him, the best that by His grace we can become, in sure and certain hope that He will bring to perfection every good thing He has begun in us.
Every year, in its special time of Remembrance, the Church remembers all our departed loved ones. November 2 (All Souls' Day) is the special day set aside for this, and this year we shall be inviting the families of all those who have died during the past year to join us at a special Eucharist of Remembrance at 8 o'clock that evening. But it is an occasion for everyone who wants to remember departed loved ones in prayer - there will be a list available in church on which parishioners may write the name of anyone they want to have remembered that day at the altar. We may feel their loss acutely, but we are still one with them in the love and mercy of God, and that is one of the things we realize as we meet in remembrance around the altar, uniting our love for them with God's love for all of us, made known in the life and death and resurrection of our Lord Jesus Christ.
May God bless us all, and bring us at last to His eternal Kingdom. MALCOLM
---
Letter Archives
2005
Other Years
About the Vicar's Letter
The Vicar's Letter has been appearing in the villages Focus magazine since August 2002.
The Rev. Peter Graham also used to publish The Vicar's Letter in the parish magazine of 1964. Please see the Vicar's Letter area for these.