Vicar's Letter
March 2005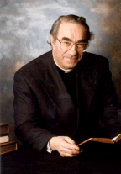 Although the disaster occurred some weeks ago, images of the tsunami which devastated coastlands around the Indian Ocean at Christmas are still vivid in our minds. Among so many pictures of people fleeing in terror from the towering wall of water, one stands out and will be remembered for a long time: the picture of a Swedish woman running towards the wave, already towering above her, to warn and rescue her family.
Not only is it an eloquent image of all that is best in human nature; it can also give us an insight into the truth of God which we celebrate at Easter. Jesus speaks to us of a God who is not remote and indifferent, but who understands our plight and comes to us to warn and rescue us. Jesus risks everything – even life itself – for love of us. The Gospels record how He set His face resolutely to go to Jerusalem, knowing only too well what fate lay in store for Him – for love of us. Betrayal, abuse, flogging, humiliation, crucifixion and death He faced and endured to rescue us from being overwhelmed and destroyed by sin.
Jesus is God made visible among us. Jesus shows us what God is really like – and every picture we have of God needs to be measured against what we see in Jesus, and, if necessary, corrected by it. God's love for us is "Jesus-shaped" – that is the fundamental claim of the Gospel.
But Passiontide leads to Easter, to the victory of love over death. That is how God wants the world to be. Life and love are more powerful than sin and death, and if that conviction can seize hold of our lives, we can help to demonstrate its truth in ordinary, everyday things. Whenever new possibilities grow from loss and death, whenever good is brought out of disaster, there the reality of resurrection is exposed. It is happening all around us, if only our minds were open to recognize it. Jesus shows us that God is always at work in our world, "bringing good out of evil, and raising up life from the dead" – our task is to work alongside Him to let loose not a tidal wave of destruction, but a firm swell of love and goodness and truth that leaves new life and hope in its wake.
May you all know the wonder and joy of Easter, MALCOLM
---
Letter Archives
2005
Other Years
About the Vicar's Letter
The Vicar's Letter has been appearing in the villages Focus magazine since August 2002.
The Rev. Peter Graham also used to publish The Vicar's Letter in the parish magazine of 1964. Please see the Vicar's Letter area for these.