Vicar's Letter
June 2005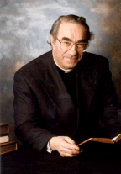 Anyone just skimming through the pages of the Gospels will be struck by how much time Jesus devoted to sick people. He came with a message of comfort and healing, and that is a ministry He handed on to His Church. Very occasionally we hear of a person who has a special gift of healing, restoring people to health and vigour in a way that medical science cannot explain. But care for the sick and infirm extends far more widely than that.
Sickness is isolating - it cuts us off from so many of our normal human contacts. It is debilitating - we have to rely on others to do basic things for us. It is alarming, and often raises fundamental questions of life and mortality that we would rather avoid. It is depressing - we need people to cheer us up. Sometimes the disruption to our way of life is only temporary, and we can look forward to "getting back to normal"; sometimes we have to create a new lifestyle and new priorities. Being ill can change the whole of our lives.
Jesus's compassion for the sick reveals God's love for them. And Jesus handed on that responsibility to His Church. Your local church has been looking at this seriously in recent months, and some church members have volunteered to visit sick, infirm and housebound people in our community to extend a hand of caring friendship to them. God's love can't be locked up inside a church building, but overflows to embrace every man, woman and child, and the concern and compassion of Christian people for their neighbours is a sign of that divine love. "We love, because He loved us first".
As your Vicar, I am always glad to visit the sick and infirm, whether at home or in hospital - but I do need to be told about them! Please let me know by a 'phone call, a knock at the Vicarage door, a note through the letter-box, or by filling in one of the "Pastoral Information" (green) forms which you will find just inside the church door. And one of our team of visitors will be delighted to call on anyone who would welcome a visit - even if it is only to cheer a few minutes of a long and dull day. If you would like someone to call, or if you know of someone else who could be helped in this way, please let me or any church member know.
There may be special issues to be dealt with. Illness sometimes forces us to try to resolve old disputes or make amends for something we have done to injure another person, and often raises questions about faith and the meaning of life. Your church is always ready to try to help with such matters - so please don't hesitate to get in touch. We are here for you - that's what being a Parish Church is all about.
May God bless you all, and grant His healing and peace to all who are sick. MALCOLM
---
Letter Archives
2005
Other Years
About the Vicar's Letter
The Vicar's Letter has been appearing in the villages Focus magazine since August 2002.
The Rev. Peter Graham also used to publish The Vicar's Letter in the parish magazine of 1964. Please see the Vicar's Letter area for these.