Vicar's Letter
August/September 2005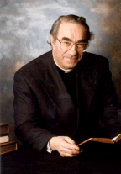 What a change there was overnight between the euphoria of the success of London's bid to hold the 2012 Olympic Games, and the shock and outrage at the terrorist bombings the following morning. Most people find themselves at a loss for words to describe their reactions to this appalling and indiscriminate attack on defenceless people.
We are rightly angry that ordinary people going about their lawful daily business or enjoying a visit to one of the world's great cities should have been killed or maimed in this way. There can be no justification for such an action. But we need to think carefully about our reactions, lest we unwittingly play into the fanatics' hands.
Our anger must be targetted carefully against the actual perpetrators and organizers of these terrible deeds, and against those who support them and nurture the hatred which inspired them. We must not let that anger and resentment overflow to others of apparently similar religious convictions or ethnic origins. The aim of terrorists is to stir up hatred and to fan the flames of bigotry. All the mainstream Islamic organizations in Britain have disowned and condemned the bombings - they are just as appalled by them as we are, and we must show that we recognize that we and they are on the same side in facing this threat to our peaceful and civilized way of life. We need to watch our words and actions and attitudes - the terrorists want to drive a wedge between the various groups which make up modern British society, but we must not let them succeed.
If we allow ourselves to be consumed by racial and religious hatred, that will recruit new suicide bombers just as effectively as the rantings of a few fanatics. Britain has always stood for freedom, tolerance and mutual respect and support. These were our values in our darkest hours, and since we all cherish them, all our actions and attitudes must spring from them. Many stories of dignity, compassion and courage were recorded on that terrible Thursday; it is vital that these same values lie behind everything we all do and say. To allow hatred to blind us to our common humanity is to sink to the level of the perpetrators of these crimes; we must all show a higher and better way in every aspect of our communal life if we are to preserve what we all hold dear, no matter how tragic and how outrageous the provocation may be to behave differently. MALCOLM
---
Letter Archives
2005
Other Years
About the Vicar's Letter
The Vicar's Letter has been appearing in the villages Focus magazine since August 2002.
The Rev. Peter Graham also used to publish The Vicar's Letter in the parish magazine of 1964. Please see the Vicar's Letter area for these.