Vicar's Letter
December 2004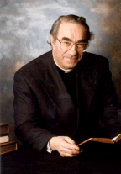 Waiting for word is an experience we all know. It may be the first time a child goes away alone, and we wait anxiously for the 'phone call that assures us of safe arrival. It may be waiting for the diagnosis of some medical problem, and whether the word brings good news or bad, at least it resolves the uncertainty and we know what course of action to take. Each year young people wait for word of the exam results on which their future depends.
In recent weeks, as we have watched with mounting revulsion the stories of those held hostage in Iraq, we have understood the acute pain and anxiety of their families and friends as they wait for word of their loved one's fate. A sailor in trouble at sea waits anxiously for word that his distress signal has been picked up and someone is responding. Waiting for word – word of reassurance, rescue, deliverance.
Christmas is seen like that in the Bible. The picture of the sailor at the mercy of the sea, of the hostage held by ill-intentioned captors, of anxiety, perplexity, pain and sorrow all reflect something of the human predicament. Out of the depths we cry out to God. And Christmas assures us that God has heard our cry, and in Jesus has acted decisively for our rescue. That is the Good News the angels sang over the fields of Bethlehem, and that rings out through all our troubled and divided world. God has heard – and God has answered!
Jesus is God's word of deliverance. The two traditional lessons read at Christmas Communion both use this image: "God who in the past spoke to us in various ways through the prophets ... has now spoken to us in his Son" and "the Word became flesh and dwelt among us" – God's decisive answer to our desperate plight. We need no longer be trapped in these forces beyond our control, because Jesus has come among us to set us free and open up for us a new life.
I hope that amid all the rush and tinsel-glamour of Christmas you may still hear the whispered word of hope and promise which is the real heart of the Festival. May I invite you to come to some of the special Christmas services in your Parish Church (detailed on the enclosed Christmas card) and join us in hearing again God's mighty word of salvation, and celebrate the wonder of His love for us. May you have a joyful, holy and peaceful Christmas. MALCOLM
---
Letter Archives
2004
Other Years
About the Vicar's Letter
The Vicar's Letter has been appearing in the villages Focus magazine since August 2002.
The Rev. Peter Graham also used to publish The Vicar's Letter in the parish magazine of 1964. Please see the Vicar's Letter area for these.