Vicar's Letter
February 2004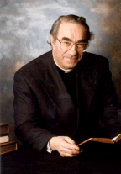 It may be a bit late, but I want to maintain an old Scots custom by wishing you all "a good New Year" – may 2004 bring us all peace and much joy and fulfilment. There is much to cause us concern on the international as well as on the national and the local scene, but behind it all lies the faithfulness and goodness of God, into whose hand we commit all our troubles and concerns, and from whom we receive so many blessings.
It was good to welcome so many people to our Christmas services. Numbers certainly justified our running the candlelight Christmas Eve service twice, and the church was full several times over during the Christmas celebrations, as we heard again the wonderful story of God's amazing generosity to us.
Jesus shows us the true nature of God, and in Him we see God's generosity laid bare – His love and mercy, His goodness and care for all His people. And because God is generous, we humans, who are made in God's image, are called to reflect that generosity in our own lives. God wants us to be generous people, because that makes us more like Him, and we have had a great deal of generosity to celebrate in this parish recently.
In December, at St Mary's we were able to present £2,900 to the charity "Send a Cow", which supplies livestock for farming in some of the poorest parts of Africa. £2,000 provides a farmyard comprising a cow, pigs, goats, hens, bees, fruit trees together with training in their care and use, and we have been able to add an extra cow, which will either increase the resources of a small community, or give a livelihood to another family. Providing these animals gives people proper nutrition and some surplus food to sell to buy clothes, education and medical help. It makes a real difference to people's lives!
During 2003 the Anglican and Methodist congregations at Dagnall have combined forces to raise just over £3,000 for the local branch of the Cleft Lip and Palate Association, and the churches of the North Chilterns Group, which includes our parish, raised a similar sum for Keech Cottage, the local children's hospice.
Our thanks go to all whose support during the past year have made these gifts possible. May this generosity continue and spread throughout 2004. Active concern for one another is a sure way to make the world a better place, and a happier place, for as Jesus taught, "There is more happiness in giving than in receiving".
May our generous God surround you all with His love and blessings, MALCOLM
---
Letter Archives
2004
Other Years
About the Vicar's Letter
The Vicar's Letter has been appearing in the villages Focus magazine since August 2002.
The Rev. Peter Graham also used to publish The Vicar's Letter in the parish magazine of 1964. Please see the Vicar's Letter area for these.