Vicar's Letter
November 2004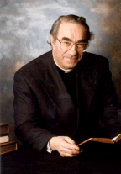 Anyone doing research into their family tree knows how hard it can be to trace relatives, particularly when people move around. It's a bit like that with my family. My grandfather, we know, was born in the south-east of Ireland, where his father was serving as a Coastguard. But presumably he was there only for a short time, and even though we have grandfather's birth certificate, it really doesn't lead us any further back in the search.
I have that sort of exercise on my desk at the moment. We are trying to trace the nearest surviving relatives of all the people whose ashes have been interred in the Garden of Remembrance, to invite them to commemorate their loved one by placing a memorial plaque on the newly-built monument in the churchyard. In some cases it has been an easy task, and the first batch of letters has gone out to give the necessary information; in other cases a discussion with "old" villagers identifies the next-of-kin. But in some cases we literally do not know to whom to turn.
I am therefore asking "Focus" readers who have relatives or friends interred at St Mary's in the Garden of Remembrance and who have not yet had a letter from me about the memorial plaques to contact me, either by letter or by 'phone, so that I can give them the information. It is perhaps appropriate that I should make this request in November, the month of remembrance, and I look forward to being able to reduce substantially the list of those for whom we have no contact.
The new memorial will be dedicated by the Archdeacon of Bedford at the close of the 10 o'clock service on Sunday, 5 December, and anyone who wishes to attend that ceremony will be welcome. The plaques which have been ordered will be affixed to the memorial as soon as possible after that service. MALCOLM
---
Letter Archives
2004
Other Years
About the Vicar's Letter
The Vicar's Letter has been appearing in the villages Focus magazine since August 2002.
The Rev. Peter Graham also used to publish The Vicar's Letter in the parish magazine of 1964. Please see the Vicar's Letter area for these.