Parish Project 2006
Becca's Letter from Uganda
May 2006
Hopefully you are getting used to my letters by now. My name is Rebecca Baldock and I am working as a physiotherapist on a missionary placement in Kagando Hospital, in SW Uganda, the Hospital being the Parish Project for 2006 for St Mary's Church in Eaton Bray. I know that you have an Open Gardens event on 11 June to raise money for Kagando, but more of that below.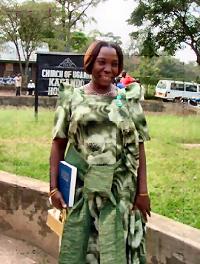 I saw a strange sight the other day. A lady was walking through the centre of Kasese wearing just a string thong over her bottom and everyone was staring at her in disbelief. She looked really out of place - this was probably what people used to wear before Western culture interfered yet now it seems completely inappropriate. The photo is of traditional Ugandan dress (it's of one of the ladies I do play therapy with). The costume was introduced by the Victorians - they were shocked at the indecency of the locals' dress. Nowadays, it is the Ugandans who feel that Western visitors dress inappropriately - its strange how things have turned round.
I always used to wonder what I'd be doing if I was born in another culture, what my life would be like etc. Sometimes I find it hard to deal with my house help. She's the same age as me and we've become good friends, but I keep thinking that the only reason she is working for me is because of where we were born. She wanted to be a nurse, but didn't have the money to train. Instead, she trained as a nature guide, but there are no jobs unless you know someone who works there. She now wants to set up a shop, at least she will be able to achieve this by the time I've gone, if not before.
The other thing that I really find difficult is the issue of AIDS. So, so many people are affected by it here in many ways. It's strange to think of how many of my friends could be affected had we been brought up here. AIDS is such a hard thing - it could be completely wiped out here if people abstained, then remained faithful (condoms help, but they're only about 70% effective), but instead more and more people are being infected and dying. Part of this is cultural; although things are changing, women and children are often thought of as property. Until recently in this region, the more wives a man had the more respect he had; as a result there's still a lot of polygamy in the villages. This leads to a hundred and one problems, too many children to provide for, wives not equally loved and AIDS.
Another friend has a sister who is weak with AIDS. She is the same age as me and not married, yet at some point she will become the mother of four children. She will have to bring up and support these children, whilst obviously holding down a job to provide for them. The really heart wrenching thing is that so many of these women have AIDS due to their husbands unfaithfulness.
People here fear AIDS victims of the disease are often isolated in their community - even by their family at times. Despite all the education about how to stop AIDS spreading there is still a fear of catching AIDS just by being in the presence of someone with the disease yet, because people won't listen to how to stop AIDS, it continues to spread rapidly.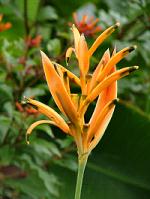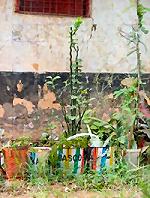 On a lighter note I understand you have an Open Gardens event taking place on 11th June to raise money for the hospital here. The money you donate will be used to help equip intensive care beds to enable us to monitor very sick patients closely and therefore give them better treatment. We have some beautiful flowers here but not always grown in the most sophisticated pots.
Thank you for all your prayers in recent months. I will be praying for the success of your event - it will be so important for us here.
Love Becca
---
Letters from previous months