Parish Project 2006
Becca's Letter from Uganda
April 2007
Hello again. I've now been back in Kagando for a week. It still feels like the right place to be and I'm enjoying being back and getting stuck into the work again. There's much going on at the moment and it's taking me a bit of time to get my head round everything again and pick up from where I left, before going home. But it's an exciting place to be.
Thank you for all your prayers. The community outreach has so far proved to be hugely successful. We had about 100 patients coming to see the plastic surgeon. (To put this into context on his last two visits he has had 15 and 6 patients respectively.) He was so busy that he couldn't carry out all the operations in this visit. He has therefore already arranged his next visit in July, where he is going to come with another surgeon, stay for longer, and already has a full days work booked for both surgeons. He wrote me an email saying how excited he was with all the patients, and it's made him want to come more often. Not all the people who came were appropriate, as some of the patients did not need his expertise, but they have been booked to be treated by our own doctors, others need special drugs which they have to purchase first. But they've all been helped or given appropriate advice on how they can be treated.
On Monday 16th we have a Orthopaedic doctor visiting. He's coming for the first time and this visit will determine whether he will come again or not. He works for the same organisation as the plastic surgeon, and we desperately need his skills, so please pray that this visit is also successful. The advantage of having these doctors coming is that their work is funded so that the patients get treatment free or at a greatly reduced price, which enables people to access treatment that they otherwise could not afford.
So far our outreaches have been aimed at educating people and other health centres and workers. We've wanted patients with treatable disabilities to be able to access the help available. The outreaches are still in the early stages. Over time we are going to have to answer questions as to whether we have the resources to treat none curable disabilities, and more physio related problems. Also whether we should continue to visit the same places or whether we should stop visiting these places continue to visit new areas to further mobilise and educate people. So please continue to pray for this work.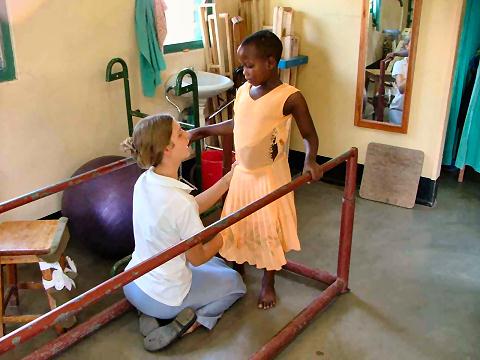 Many of you enjoy praying for specific people and patients so I have another girl I would like you to pray for. Her name is Jovia. I found her on the ward when I returned from home and she's an absolute joy to treat. She was admitted into hospital at the beginning of March, unconscious and fitting having been hit on the head with a branch off a tree. She was treated here and her cuts closed, but as she was still unconscious she was sent to Kampala (Ugandas capital) for a brain scan to see what damage had been caused. Now it's very unusual for patients to be able to afford to go to Kampala for treatment, but she was one of the lucky ones, as she is sponsored by Compassion (for her schooling and care) they pay for her medical bills. The scan showed some swelling in the brain so they gave her appropriate medicine and sent her back to us for rehabilitation. When I returned from the UK I met a 9year old girl who was sitting up in bed, happy and very compliant. She had problems moving her right arm, and no movement at her shoulder. She has flickers of contractions around her hip but nothing else in her right leg, and no movement at her right ankle. She is in hospital now just for physio and her face lights up when we come into the room to take her for treatment. She's doing really well with her right arm and now has full movement, although her strength and control continues to require working on. We are doing a lot of standing and walking practice with her. But please pray that she gets some recovery in her legs. She has age on her side and is daily making improvements with us, which her father is very pleased with.
Whilst treating Jovia I keep reflecting on how many things we've been able to put in place due to you people back at home that has helped her treatment. Firstly we've been able to purchase a oxygen saturation monitor, which was able to monitor her oxygen and heart rate while she was unconscious. When she returned from Kampala we needed to take her in a wheelchair to physio. This was previously a huge problem but we've been able to build a path between surgical ward and physio which now makes access easy. Once in physio we've been using many of the toys for play therapy to help facilitate Jovia to regain use of her right arm. We've also been able to use something called sling suspension, which is where the weight of a persons limb is supported using strings and a frame above the bed to attach the strings to. This then allows the patient to be able to move their limb even if they only have very little strength and therefore strengthen their muscles. Much of the treatment that Jovia has been able to receive has therefore been facilitated by many of you, so thank you.
Prayer requests
Thank God for safe travels and a great time at home catching up with friends and family
Thank God for the success of the outreaches so far and the plastic surgeons visit. Please pray for the orthopaedic surgeons visit and continue to pray for the outreach
Please pray for Jovia
---
Letters from previous months