Parish Project 2006
Becca's Letter from Uganda
March 2006
Hopefully you are getting used to my letters by now. I am working as a physiotherapist on a missionary placement in Kagando Hospital, in SW Uganda, the Hospital being the Parish Project for 2006 for St Mary's Church in Eaton Bray. I am sure many of you will remember my family, the Baldock's, who originated in Dunstable; in particular Eric Baldock, my grandfather, who used to run Herrington's chemist at the top of George Street in Dunstable.
I have indicated that if you want to find out more about Kagando you can do so at www.kagando.org but since not everyone has access to the internet, and for some it may be too much trouble, I thought I would tell you something about, Uganda, the hospital and its work.
Uganda lies on the elevated basin that rises between the eastern and western branches of the Great Rift Valley. Most of the country is over 1,000m in altitude, and the topography is generally quite flat. Most of Uganda is well watered and fertile. Almost 25% of the country's surface is covered by water and yet only 38% of the population have access to clean water.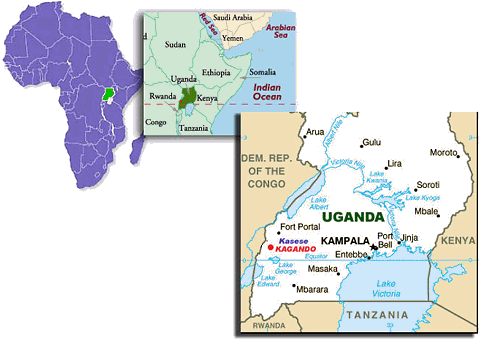 The country has a population of almost 20 million and an annual increase of 2.5% per annum. This rate is low by African standards, partly due to the high incidence of AIDS, a disease that originated close to Kagando, over the border in the Congo. Life expectancy in Uganda is around 40 years. Christianity is widespread and, here at Kagando, I am supported by a lively Church community.
Kagando was originally a Leprosy Settlement located over the hills in Congo but in 1963 it was moved into Uganda and became a more generalised hospital, supported by the Ugandan government who invited an Africa Inland Mission (AIM) missionary doctor to start a hospital in the area. The strong Christian foundation to the work of Kagando has remained throughout – the emphasis in the hospital being placed on Christ-like caring for patients and all those suffering.
TEAR fund became involved in the work from early 1979. With their help a new hospital was built supported by a hydroelectric scheme, based on a small river flowing out of the mountain near Kagando. In response to a severe cholera epidemic, which killed thousands AIM volunteers capped springs on the mountainside, bringing clean water to the hospital and local communities. As a result there have been dramatic reductions in water borne disease and with new pipelines and outlets more communities now have access to clean water.
Over the intervening years the work of hospital has gradually expanded and, today, a busy District General Hospital is at the heart of Kagando providing a full range of services for patients.
Kagando has established a seed bank to help local farmers and a tree nursery, which encourages tree planting in order to reduce the effects of erosion. In addition, with Fairtrade, the development has established a honey collection unit to produce local honey. A grinding mill has been set up, which encourages and supports local farmers and there are workshops where local people can learn and develop skills in woodwork, mechanical, panel beating
A nursery school, originally established for staff children grew into a full Primary School, which now provides a high standard of education for more than 800 children in the surrounding area.
Despite the wonderful work carries out in Kagondo over the past 40 years the needs and challenges facing the project today remain great.
More doctors are needed to work medium or long-term contracts. Doctors are a mobile workforce and Uganda faces competition to retain its trained doctors, not least from the UK, which is continually striving to recruit more overseas doctors to meet the demands of the NHS.
Financial shortfall – the costs of running the project escalate constantly, and although every effort is made to contain costs, and maximise income, there is a constant need for subsidy.
Threats to water and electricity supplies. The hydroelectric power turbines and generators are now old and require upgrading and frequent repair. The water and electricity supply run alongside a road that is to be upgraded. Kagando are being asked to meet the costs of moving the pipe and cable, even though the community benefit from the supplies without cost.
Growing work load – the needs are overwhelming
Changing technology – With increased sophistication of treatments available, and increasing demands by the Ugandan Ministry of health to follow accepted good practice in all areas of the hospital and project mean that costs escalate.
In know the hospital and the trustees are very grateful for the support from the St Mary's Parish Project and I hope that people who read my letters will be inspired to turn out and help, or at least take part in the events that are planned. In particular, I understand that a number of villagers are opening their gardens on 11 June. That sounds great and I wish you every success. I can assure you that all the money you raise is both desperately needed and will be used to good purposes to provide hospital services that we in the UK take for granted when we go into hospital.
Prayer requests
Please continue to pray for Kagando and its staff and managers
Pray for the efforts of those supporting Kagondo through St Mary's Parish project
Give thanks that the elections in Uganda went off relatively peacefully
Thank you
Love Becca
Rebecca Baldock
---
Letters from previous months