Vicar's Letter
March 2022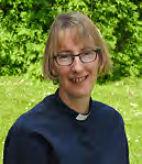 It is now two years since our lives were unexpectedly disrupted by Covid 19. We were required to lockdown, to stay at home only going out briefly for exercise or essential shopping. Everything changed. For some, lockdown became a period of reflection, and an opportunity to reconnect with the natural world in new ways. Revd Louise Collins, Team Vicar of Elstree and Borehamwood spent some of her lockdown reading and reflecting on trees. Trees are resilient, and adaptable. They are amongst the oldest living organisms on earth. They provide a big contrast to the way we live our lives in normal times, which for many are spent rushing around, constantly trying to fit everything in.
This year in our Lent Group with the North Chilterns Group of Churches we will be exploring the amazing world of trees, using material written by Louise. There will be an opportunity to ponder what trees can teach us and to engage in discussions with one another. Meetings will be held at Totternhoe Church Hall on Tuesday evenings during Lent, starting on Tuesday 8th March and concluding on Tuesday 5th April. Drinks and biscuits will be served from 7.30pm and each session will start at 7.45pm with a presentation followed by discussion.
I am very excited about this Lent Course. I think it will help us to see the importance of trees and give us time and space to reflect on how we too can be rooted just as they are. The five sessions will cover themes of being rooted in life, in generosity, in community, in justice and in hope. We are often encouraged to think about our impact on the environment. But how often do we consider how the world around us can change and shape us? Louise has used a wide variety of material to enable reflections on what trees can teach us. She draws on insights from figures as diverse as the Archbishop of York, Stephen Cottrell and Mother Julian of Norwich. Louise uses these as well as Biblical passages and her wide reading and research to open up the amazing world of trees in all its aspects.
Everyone is welcome to come along. If you have never been to church before and you would like to think more deeply about things, then this is a good opportunity to do so. It will be a relaxed approach with no pressure to join the discussion unless you wish to do so- and it is free! The other thing worth noting is that although the sessions are linked, each one will stand alone. I hope you will take the opportunity to join us and learn more from the natural world about being Rooted in Hope and the amazing world of trees.
Wishing you a holy Lent,
Joy (Vicar of Eaton Bray with Edlesborough)
---
Letter Archives
2022
Other Years
About the Vicar's Letter
The Vicar's Letter has been appearing in the villages Focus magazine since August 2002.
The Rev. Peter Graham also used to publish The Vicar's Letter in the parish magazine of 1964. Please see the Vicar's Letter area for these.