Vicar's Letter
February 2022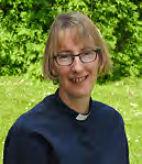 On Sunday 6th February at 10am at St Mary's Eaton Bray, we will be marking Accession Day. This is not something we usually do, but this year is the Platinum Jubilee of Her Majesty the Queen. King George VI died on 6th February 1952 at Sandringham whilst Princess Elizabeth and her husband Philip were staying in Kenya. They returned home the following day and Elizabeth was proclaimed Queen aged 25. Her succession was proclaimed at an Accession Council at St James' Palace attended by 175 Privy Council members in addition to the Lord Mayor and Aldermen of the City of London. One of the Queen's many roles is as Supreme Governor of the Church of England. As such, every Church of England clergyperson has to swear allegiance to the sovereign. The Queen is responsible for appointing bishops, archdeacons and deans of cathedrals.
To celebrate the Platinum Jubilee, there will be a number of events across the four nations of the United Kingdom. The Commonwealth Games will take place in Birmingham and there will be two additional bank holidays on 2nd and 3rd June for community celebrations. Another initiative for the Platinum Jubilee is the Queen's Green Canopy when people are encouraged to 'plant a tree for the jubilee.' The aim is to create a legacy in honour of the Queen's leadership of the Nation which will benefit future generations. We are all aware of the need to support the environment and this is one way of helping to do that. Throughout Bedfordshire the aim is to plant trees in every parish. That can be done by individuals as well as community groups. At St Mary's we will be planting a new hedge of native species on the boundary between the church yard and the village hall. We hope to involve people from the community in this initiative, so if you would be interested in helping please get in touch for more details.
In addition to planting trees, the Queen's Green Canopy project will dedicate a network of 70 ancient woodland areas across the United Kingdom and Northern Ireland and also identify 70 ancient trees to celebrate Her Majesty's 70 years of service.
As we mark this important year in the life of our nation, we give thanks to God for the dedication, service and integrity of Her Majesty the Queen. Her life is underpinned by a deep faith which is evident in all that she does. Here is a prayer for the Queen.
God of time and eternity, whose Son reigns as servant, not master; we give you thanks and praise that you have blessed this Nation, the Realms and Territories with Elizabeth our beloved and glorious Queen.
In this year of Jubilee, grant her your gifts of love and joy and peace as she continues in faithful obedience to you, her Lord and God and in devoted service to her lands and peoples, and those of the Commonwealth, now and all the days of her life;
through Jesus Christ our Lord. Amen.
With every blessing
Joy (Vicar of Eaton Bray with Edlesborough)
---
Letter Archives
2022
Other Years
About the Vicar's Letter
The Vicar's Letter has been appearing in the villages Focus magazine since August 2002.
The Rev. Peter Graham also used to publish The Vicar's Letter in the parish magazine of 1964. Please see the Vicar's Letter area for these.