Vicar's Letter
July 2019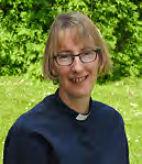 It's always interesting living in different parts of the country and learning about the local history. A couple of month ago, I attended a Quiet Day held at the Bunyan Meeting Church in Bedford. There is a small and fascinating museum in the building which tells the history of John Bunyan. 'The Pilgrim's Progress' has been named as one of the best 100 novels but its author was an unlikely novelist. John Bunyan was born in 1628 at Elstow near Bedford. It was a time of great social and religious upheaval. Parliament and the king were at loggerheads, and religious freedoms were changing fast. Bunyan's father was a travelling tinker and the family owned some land in Elstow. John had some schooling and at the age of 16 joined the Parliamentary Army during the English Civil War. After three years in the Army he returned to Elstow where he worked as a tinker like his father. At the age of 21 he married Elizabeth. His wife's dowry consisted of two Puritan books. Bunyan wrote: 'We came together as poor as poor might be, not having so much household-stuff as a dish or spoon betwixt us both.'
Yet those two books were life changing and began Bunyan's process of conversion to Puritan Christianity. He became interested in religion and first attended the parish church before joining the Bedford Meeting. He gradually gave up recreations like dancing, bell ringing and sports, especially after hearing a sermon from the Vicar about keeping the Sabbath holy. He was influenced by meeting with 'three or four poor women sitting at a door...talking about the things of God.' They were the founding members of the Bedford Meeting. Bunyan was so impressed by their conversation that he joined their church. Another major influence on his life was John Gifford, the minister there. He and others of the congregation encouraged Bunyan to preach both in the church and around the countryside.
When the Monarchy was restored in 1660, religious freedom for nonconformists was severely curtailed. John Bunyan was arrested for illegal preaching and spent twelve years in Bedford prison. Whilst there, he wrote his spiritual autobiography, 'Grace abounding to the chief of sinners' and began work on 'The Pilgrim's Progress', although it was not published until some years after his release. The book's setting is thought to be based on rural Bedfordshire. I will leave you to see if you can spot the connections!
Bunyan spent another short term in prison, but lived in relative comfort as a popular author and preacher and the minister of the Bedford Meeting from 1671 to 1688. Crowds flocked to hear him preach.
The Pilgrim's Progress became one of the most published books in the English language. By 1938, 1,300 editions had been printed. It has been translated into over 200 languages and dialects and continues to fascinate and inspire people today.
The Bunyan Meeting and museum on Mill Street Bedford is well worth a visit. It continues to be an independent church and an active centre of worship.
Wishing you an enjoyable summer,
Joy (Vicar of Eaton Bray with Edlesborough)
---
Letter Archives
2019
Other Years
About the Vicar's Letter
The Vicar's Letter has been appearing in the villages Focus magazine since August 2002.
The Rev. Peter Graham also used to publish The Vicar's Letter in the parish magazine of 1964. Please see the Vicar's Letter area for these.