Vicar's Letter
April 2019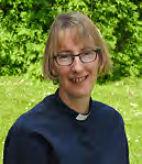 A boy was watching his father, a pastor, write a sermon. 'How do you know what to say?' he asked. 'Why, God tells me,' replied his Dad. 'Then why do you keep crossing things out?' queried his son.
Christianity can sometimes be seen as a negative religion. Some people think it's all about 'Thou shalt not'. And Lent can be seen as a gloomy season, a time of dwelling on our shortcomings and denying ourselves things we enjoy. In Lent, Christians do try to face up to their sins with greater honesty. There is an encouragement towards self-denial. But what lies behind these actions, and what is their aim?
If we read the Bible, we can see that it does have things to say about God's judgement for evil deliberately and consciously chosen. But it has far more to say about God's love and forgiveness.
In my Biblical Concordance, which lists references to different words in the Bible, there is less than a page of references to judgement. In contrast, there are more than 5 pages of references to love.
'God is love' writes St John and that love is seen supremely in the life, death and resurrection of Jesus. In Lent, we focus on our own failings in order to change and become better people. That is in response to the immeasurable love of Jesus. We respond with sadness to the ways we have caused hurt by being less than loving to God, our neighbours and ourselves. The motivating factor behind our self-examination is love.
So what is our aim? When someone is getting ready to run a marathon, they train beforehand so that they will be able to do their very best on the day. When someone is planning for a wedding, there is a huge amount of preparation before the big day to ensure that everything goes smoothly.
The season of Lent is a season of preparation for the great day of celebration - Easter. We spend time getting ready beforehand so that we will be ready to celebrate the greatest day in the church's calendar, the day on which Jesus rose again. Not only is the church building transformed with flowers and fragrance, but its people are transformed after their Lenten journey. The glory of the resurrection brings new life, new hope, new possibilities and new ways of being.
Services at St Mary's reflect the journey of Jesus from his passion to his resurrection. On Wednesday in Holy Week, 17 April at 8.00pm we will mark the Stations of the Cross. The following day, Maundy Thursday there will be the Solemn Eucharist of The Lord's Supper at 8pm followed by a vigil. On Good Friday from 11am - 1pm families are invited to Messy Church in Eaton Bray Village Hall. From 2pm-3pm there will be a Devotional Service in St Mary's and at 6pm a service of reflection at All Saints' Dagnall. For Easter Day there is a said service of Holy Communion at 8am and a Sung Eucharist and Easter egg hunt at 10am. We hope you will be able to join us to celebrate the wonder of Jesus' resurrection.
Wishing you a holy Lent and a happy Easter,
Joy (Vicar of Eaton Bray with Edlesborough)
---
Letter Archives
2019
Other Years
About the Vicar's Letter
The Vicar's Letter has been appearing in the villages Focus magazine since August 2002.
The Rev. Peter Graham also used to publish The Vicar's Letter in the parish magazine of 1964. Please see the Vicar's Letter area for these.