Vicar's Letter
August/September 2007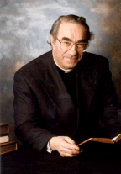 As I write, we are making last minute preparations for our summer holiday: organizing currency, checking routes, looking through last year's clothes to see what simply must be replaced - and in my own case sorting out all the church duties which have to be covered while I am away. There is always a build up of stress before a holiday, but it is great when you can just sit back, relax and enjoy a different routine and different experiences.
Doing something different is part of the joy of a holiday. We need a break from the normal routine, and we need to get away from day to day pressures. I often think of people from our villages sitting day after day in traffic jams or squashed up in an overcrowded train, struggling to get a task finished before the end of the working day, or rushing from one appointment to another in a very full diary. There can be a lot of pressures in modern living, and we need a break from it all.
We may spend that break lying in the sun, reading, or we may go for an activity holiday in which we create a whole range of new stresses for ourselves. Some people - I have to confess that I am not among them! - want a sporting holiday or one with a lot of physical challenge. Others may want to use the opportunity to learn a completely new skill, or to see new places and experience a different culture. We all need that sort of change "to recharge our batteries", and even the most active holidays include space for relaxation and unwinding - and they all offer us time to think. Too often we get so caught up in the relentlessness of ordinary life that we never stop to ask where we are going and what it all means. We are in danger of losing our essential selves under all that is imposed upon us.
One of the great bonuses of a holiday is that it does give us space to stand back and look at our lives and ask, "where is all this taking me?" Holidays remind us of the necessary balance between work and leisure, between home and work, between self and others. When this balance is seriously disturbed life becomes disordered and this often expresses itself in some form of illness. How often do busy people come to retirement with no idea of how they might fill their time, simply because they never had time for hobbies and at the end of the working day just collapsed in front of the TV? Holidays give us an opportunity to ask ourselves how we might adjust the balance in our own lives to make them better for ourselves and those close to us.
Is my current life-style fair to me and to the family? Does it enable me to make a proper contribution to the wider community, to nurture friendships, to become a more mature and rounded person? What do I need to change - what can I change? Spend a little bit of time pondering these things as you lie on the beach, or climb mountains, or heave in the sails, or watch the countryside slip past the window. A holiday is a time to step back in order to move forward.
Have a good holiday. Come back refreshed, and ready for a more meaningful life.
MALCOLM
---
Letter Archives
2007
Other Years
About the Vicar's Letter
The Vicar's Letter has been appearing in the villages Focus magazine since August 2002.
The Rev. Peter Graham also used to publish The Vicar's Letter in the parish magazine of 1964. Please see the Vicar's Letter area for these.