Vicar's Letter
June 2007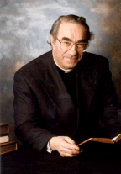 Last year the Open Gardens Afternoon brought pleasure to many people and raised a remarkable sum of money for Kagando Hospital in Uganda. Building on this success we are pleased to offer another Open Gardens Afternoon on Sunday, 10 June, this time in aid of our Church Roof Fund and this year's Parish project, the Chilterns Multiple Sclerosis Centre. I want to express our thanks to the kind people who are allowing us to invade their privacy end enjoy their gardens, and invite FOCUS readers to come along for a wonderful afternoon and contribute to two very worthwhile charities.
Gardens are special places, oases of peace and pleasure, and for many an escape from the pressures of the world. For some they are truly a sanctuary - there is an old saying "you are nearer to God in a garden". There is truth in that, for the joy of the garden gives us a sense of wonder at the beauty God has created. But it causes me some concern because it can make God a comfort zone into which we retreat from the harsher realities of life, and the God Jesus reveals to us is a God who is deeply committed to our world and every aspect of its complex life.
In the Bible, the garden does indeed represent paradise, but the Garden of Eden story shows how even in idyllic surroundings pride and rebellion can assert themselves, and human beings are so easily led astray. There are two other garden stories in the Bible we should think about. It was in a garden (Gethsemane) that Jesus struggled with his human frailty to consecrate himself to the path of suffering to reveal the full wonder of God's saving love, when he died on the cross to break the stranglehold of sin and death over us. And it was in a garden, close by Calvary, that the risen Jesus first appeared to his followers to show them he had been raised from the dead to open up God's new future - eternal life - for the whole human race. Those gardens have definitely brought us nearer to God.
I am reminded also of a well-known carol, which sees us as King Jesus's garden. It lists the virtues that ought to characterize our lives - chastity, humility, patience, obedience, and, above all, charity - and pictures them as the flowers we cultivate. In so many busy lives these qualities can easily become neglected - unnourished, unwatered and choked with weeds - and wither away. So, as we enjoy other people's gardens, or work away in our own, can we spare a bit of thought and effort for the cultivation of our own personalities to encourage the growth of positive virtues in our own lives, and so make our little corner of God's world a little more like the paradise it was always meant to be?
MALCOLM
---
Letter Archives
2007
Other Years
About the Vicar's Letter
The Vicar's Letter has been appearing in the villages Focus magazine since August 2002.
The Rev. Peter Graham also used to publish The Vicar's Letter in the parish magazine of 1964. Please see the Vicar's Letter area for these.