Vicar's Letter
June 2021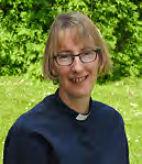 As I write this we are preparing for the next stage in the roadmap. Easing of restrictions means that we can begin to look forward to events which we hope will take place over the coming summer months. It is heartening to know that the restrictions we have endured have made such a difference along with the vaccination programme rollout.
St Mary's Eaton Bray and All Saints' Dagnall have both been open for Sunday services since Easter. That will continue with worship at 10am every Sunday at St Mary's and at 10.30am on the third Sunday of the month at Dagnall. The Sunday services from St Mary's will be livestreamed so that people who are unable to come to church can view them via the church website, YouTube channel and on the church Facebook page. In addition, midweek services of Holy Communion in St Mary's started again at the beginning of May. They are on Wednesdays at 10am. Everyone is welcome to these services.
On 22nd April Archdeacon Dave came to St Mary's for a special service to license Stephen as Associate Priest of Eaton Bray with Edlesborough. He has completed three years here as a curate. I'm sure you will agree with me that the time seems to have flown by! It is wonderful that Stephen is able to continue his ministry in the parish. We are indebted to him for his many skills, especially in enabling the online worship which has been so crucial during the past year of pandemic. Stephen will continue to be a self-supporting minister. He works in Higher Education teaching and doing academic research in the study of Islam. We are delighted that Stephen will stay in the parish and look forward to the future together.
Look out in Focus for information about upcoming events in June and July. On June 19th, Sally Taylor will be hosting afternoon tea in her garden at Butler's Folly, Northall. I'm sure it will be a real treat. Money raised will go to St Mary's flower fund. St Mary's Village Carnival will be back on Saturday July 3rd on Edlesborough Green. This is a wonderful village event, an opportunity to celebrate and to meet up with friends and neighbours to have fun and to raise money for St Mary's and other good causes. Please put the date in your diary.
After the great success last summer of Open Gardens, this year's event will take place on Sunday 25th July. It was a real pleasure to visit some stunning gardens in our villages last summer. I hope you will be able to come along to Open Gardens and see for yourself this year. There will be concerts beginning again in St Mary's church later in the year if all goes smoothly with the easing of restrictions. You can find more information about St Mary's Village Carnival, Open Gardens and other events in this magazine and also on the church website.
As we begin to return to a less restricted way of living, I hope you will be able to join us at Carnival and other occasions. Wishing you all a happy summertime.
Joy (Vicar of Eaton Bray with Edlesborough)
---
Letter Archives
2021
Other Years
About the Vicar's Letter
The Vicar's Letter has been appearing in the villages Focus magazine since August 2002.
The Rev. Peter Graham also used to publish The Vicar's Letter in the parish magazine of 1964. Please see the Vicar's Letter area for these.