Vicar's Letter
October 2002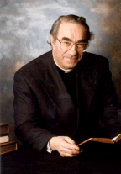 As a result of our consultation within the congregation we have established a pattern of week-day worship in the Parish Church which is detailed below. Sunday worship is a time for the whole Christian community to come together to worship God, to pray for His world, and to hear again His living word, and at the same time to encourage one another in faith and renew our fellowship and concern for each other.
Sunday morning should be the "hinge" of our week, as we bring to God in joy and thanksgiving and penitence all that has happened in the week before, and seek His blessing and guidance in all that lies ahead in the coming week. Each of us brings our own particular concerns and sorrows, our own joys and gratitude to church, and we go out again renewed by God's Spirit to bring the light and the love of Christ into every situation we encounter.
Worship during the week is more personal – a few minutes set aside from the busy-ness of daily living to focus on God and on what He wants us to do for Him in that particular corner of life in which He calls us to serve Him. Tuesday morning, Wednesday morning and Thursday evening now provide that opportunity within this Parish for all who wish to use it – so please feel welcome to come along to any of our services and share in them.
Whenever you hear the church bell ring, you can be sure a group of people has gathered to praise God and to pray for our own communities as well as for the wider world. Perhaps people at home could pause for a few moments' quiet reflection or prayer when they hear the bell, and so let the grace of God percolate into their lives and refresh them. And, of course, those who can't get to church can pray at home at the same time as others are praying in church, and so have some sense of fellowship with the wider Christian family.
Sometimes the elderly and housebound feel they no longer have anything they can do for others. What they have plenty of is time, with the opportunity to offer the prayers and praises to God that the rest of us never get round to, because we are just too busy. The Mothers' Union has an Indoor Prayer Circle linking those who can't get out with those who can, and perhaps that is a model our own parish might explore. I am very concerned to make pastoral contact with parishioners who are infirm or housebound, so please let me know of them so that I can call on them.
As Vicar of the Parish, my ministry is to the whole community, so if there is any way in which I may be able to help, please don't hesitate to contact me, either by 'phone, or by calling at the Vicarage, or by the green Pastoral forms which you will find just inside the church door.
May God bless you all, MALCOLM
---
Letter Archives
2002
Other Years
About the Vicar's Letter
The Vicar's Letter has been appearing in the villages Focus magazine since August 2002.
The Rev. Peter Graham also used to publish The Vicar's Letter in the parish magazine of 1964. Please see the Vicar's Letter area for these.