Vicar's Letter
December 2023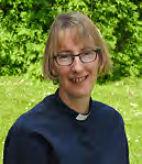 Christmas is a time for giving. We celebrate God's generosity in giving his only Son who came to earth and lived a human life. That most precious gift is the reason why we give presents at Christmas. In a small way, we are reflecting the generosity of our Father in heaven. One of the ways we can give a gift to future generations is by our care for planet earth. As Churches Together in Eaton Bray and Edlesborough we want to encourage people to be more environmentally conscious. Below is an 'Eco Advent Calendar', with actions for each day of December up to Christmas. I hope you will find the ideas helpful as we seek to live more sustainably.
Friday 1st December Buy Christmas cards which support an environmental charity
Saturday 2nd December Visit the book swap at St Mary's and exchange a book
Sunday 3rd December Make a card or present for someone for Christmas
Monday 4th December Have a 'landfill waste free week' by buying only goods with all recyclable or no packaging
Tuesday 5th December Walk, cycle or take the bus to somewhere you'd normally drive to
Wednesday 6th December Don't leave anything 'on standby' at home
Thursday 7th December Plant some garlic in a pot or bed before Christmas
Friday 8th December Choose a clear night and go star gazing
Saturday 9th December Save your used stamps & put them in the box in St Mary's to support Whippet Rescue
Sunday 10th December Take time to go for a nature walk
Monday 11th December Only buy in season produce this week
Tuesday 12th December Reuse an item for something else e.g. Use an old envelope for a shopping list
Wednesday 13th December Refill a bottle of washing up liquid, fabric conditioner or shampoo rather than buying new
Thursday 14th December Cook 2 days' meals at the same time
Friday 15th December Make some gift tags from old Christmas cards
Saturday 16th December Take something broken to a repair café
Sunday 17th December Write someone a letter instead of using electronic devices
Monday 18th December Buy loose fruit or veg
Tuesday 19th December Turn off your screens and read a book
Wednesday 20th December Plan a new plant-based meal
Thursday 21st December Buy supermarket herbs to keep on your window sill
Friday 22nd December Turn off the lights when you leave the room
Saturday 23rd December Plan how to use your leftover turkey
Sunday 24th December Go to church and save a bit on your heating!!
Monday 25th December Celebrate the birth of Jesus - who was laid in a repurposed feeding trough for animals feed.
Wishing you all God's blessings this Christmas.
Joy, Vicar of Eaton Bray with Edlesborough
---
---
Letter Archives
2023
Other Years
About the Vicar's Letter
The Vicar's Letter has been appearing in the villages Focus magazine since August 2002.
The Rev. Peter Graham also used to publish The Vicar's Letter in the parish magazine of 1964. Please see the Vicar's Letter area for these.