News Archive - May 2014
The 21st Century St Mary's Appeal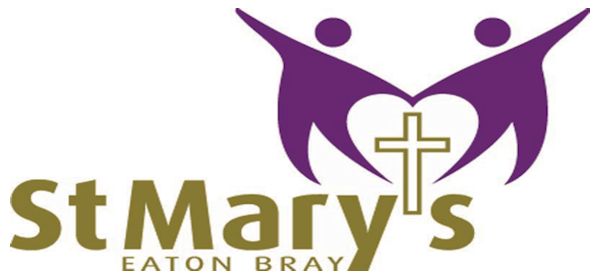 Dear Fellow Parishioner,
Although you may not have realised it, the church of St Mary the Virgin, Eaton Bray has stood at the centre of these villages for almost 800 years. Of course, when first built the church would have had at most one window, an earth floor, a thatched roof, and would have been considerably darker, lower and smaller than it is today.
Thankfully, over the years the church has been brought up to date – such as by the addition of many more windows and the building of the chancel, both in the 15th century, and by the introduction of other comforts such as a tiled floor (in the 19th century) and heating at around the same time. Other 'modern' innovations took rather longer however, as electricity was only installed as recently as 1926.
Yet in some ways the church is still no better equipped than it was back in the 13thcentury when it was built – so as we still do not have any toilet facilities, or a kitchen for that matter and as we approach our Parish Church's 800th birthday in 2019 we feel that the time is right to address these shortcomings.
We are therefore appealing to everyone living in the four Parish villages - Eaton Bray, Edlesborough, Dagnall and Northall - to help in whatever way they can, as the cost of building an extension to house the toilet, and create a kitchen area will be £150,000. We have already raised a significant amount, and we are hopeful that we will be able to obtain further assistance via grants – but there remains a significant hill to climb.
The church is already used for far more than the usual routine weekly services, for it hosts many child-centred events such as TOTS and Messy Church and, of course more typical events such as weddings, christenings, funerals and special services at Christmas, Easter, Mothering Sunday and Harvest. We understand that many people may only attend St Mary's infrequently, if at all, but nevertheless, this church does hold a central position in the life of these villages – and needs to be kept up to date so that it can be used more by the whole community - for even more concerts, meetings, community events, coffee mornings, common interest groups and the like.
We are asking people if they can help in one (or all) of a number of ways:-
By looking out for events at St Mary's and supporting us by buying tickets.
By contributing to the cost of the project by cash, cheque or BACS transfer and having your name – or someone else's name in the case of a gift given in memory of a loved one - recorded as a donor on the list to be buried in a 'time capsule'- we will tell you more about this in future editions of 'Focus'.
By volunteering to run a fundraising event.
By offering your help with a fund-raising project. No matter how small that help may be, you can be sure that it will be appreciated.
In order to help or if you have any questions please contact me, Chris Banks or Peter Bennett.
You can also fill in the attached contact request form and return it to us.
The 21st Century St Mary's Appeal
---
Permalink
|
Comment
---
---
Comment on This Article: