News Archive - December 2010
New vicar says country life is just heavenly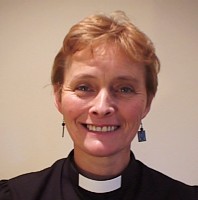 Rural life is all in a day's work for the new vicar arriving soon at St Mary's Church, Eaton Bray.
For the Rev Coralie McCluskey has been the agricultural chaplain for Hertfordshire for the past two years.
And she already works closely with villages as a team vicar in the Welwyn area.
Mrs McCluskey, 58, will move to the area in late January. She has two sons and two daughters, and her husband Ralph is an IT specialist working in Herts.
On February 22, she will become priest in charge of the parish of Eaton Bray with Edlesborough.
The new vicar will be licensed by the Rt Rev Richard Inwood, the Bishop of Bedford.
Mrs McCluskey spent 26 years as a teacher in the Herts area, working with secondary schools and colleges, before making the life-changing decision to join the clergy.
She reflected: "It was a calling, out of the blue. I had always been involved in the Church, but it was absolutely a calling.
"One day it just felt as though I had a tap on the shoulder saying: 'I think you are being called to something else.' And I couldn't say no.
"You know it's something different when you can't say no."
After being ordained in 2001, she became assistant curate in the benefice of St Mary the Virgin, Welwyn, with Ayot St Peter.
Then in 2004, she took up her current post in the Welwyn team ministry, working closely with villages.
She was also acting team rector for a time, from August last year until September this year.
In her new role, she will continue to act as the Herts agricultural chaplain.
As part of that work, she has helped to set up a farm crisis network in the county to support farmers in times of trouble, such as outbreaks of foot and mouth disease.
Now she will soon be settling into her new community.
She said: "I am really excited. I am looking forward to getting to know people and getting about in the community.
"It is a new challenge and the people I have met are lovely."
She has already met the churchwardens at St Mary's and the headteachers of the village schools.
"There is great scope for working with young people, which is always really exciting for me," she said.
And she added: "People have been very welcoming. They can look out for me on early morning walks with my Jack Russell, Winnie.
"I will be the person who says hello to everyone I pass!"
Source: Dunstable Today
---
Permalink
|
Comment
---
---
Comment on This Article: