News Archive - April 2009
Vicar's Letter - April 2009
Dear Friends at St Mary's and All Saints',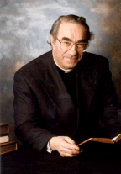 I want to thank you most sincerely for the generous gifts you presented to Katrina and myself on Sunday, 8 March. It was a most enjoyable day, and the events will remain in our memories for a very long time.
I am delighted with the multimedia projector - until now I could not project any of my digital photographs other than on the computer screen, as became evident in responding to more recent invitations to give an illustrated talk to various groups. Now it's no holds barred! And we shall have plenty of scope buying things for the new house with the John Lewis vouchers. Thank you all so much for being so generous. And the flowers were absolutely gorgeous.
By the time you read this we shall be settled in our new home and adjusting to a new way of life. At times it seemed as if it would never be ready for us, as the work schedules fell further and further behind, but these things come right in the end!
So many of you, both members of the churches and residents in the community have sent cards and kind wishes, and we thank you for all of them.
Now you must prepare for the next chapter in the life of the Parish of Eaton Bray with Edlesborough, and I assure you of my good wishes and prayers as you begin the search for a new priest to minister among you. May God bless you all.
MALCOLM
---
Permalink
|
Comment
---
---
Comment on This Article: